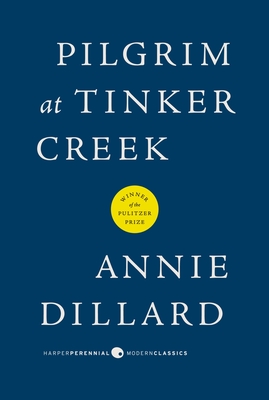 Pilgrim at Tinker Creek
Publication Date:
September 10th, 2013
Publisher:
Harper Perennial Modern Classics
Usually Ships to Store in 4 to 7 Days
Description
Winner of the Pulitzer Prize
"The book is a form of meditation, written with headlong urgency, about seeing. . . . There is an ambition about [Dillard's] book that I like. . . . It is the ambition to feel." — Eudora Welty, New York Times Book Review
Pilgrim at Tinker Creek is the story of a dramatic year in Virginia's Roanoke Valley, where Annie Dillard set out to chronicle incidents of "beauty tangled in a rapture with violence."
Dillard's personal narrative highlights one year's exploration on foot in the Virginia region through which Tinker Creek runs. In the summer, she stalks muskrats in the creek and contemplates wave mechanics; in the fall, she watches a monarch butterfly migration and dreams of Arctic caribou. She tries to con a coot; she collects pond water and examines it under a microscope. She unties a snake skin, witnesses a flood, and plays King of the Meadow with a field of grasshoppers. The result is an exhilarating tale of nature and its seasons.
About the Author
Annie Dillard is the Pulitzer Prize-winning author of Pilgrim at Tinker Creek, An American Childhood, The Writing Life, The Living and The Maytrees. She is a member of the Academy of Arts and Letters and has received fellowship grants from the John Simon Guggenheim Foundation and the National Endowment for the Arts.
Praise for Pilgrim at Tinker Creek
"This book of wonder is one of the most truly beautiful books of this or any season. . . . A triumph." — Publishers Weekly
"A remarkable psalm of terror and celebration." — Time magazine
"The book is a form of meditation, written with headlong urgency, about seeing. A reader's heart must go out to a young writer with a sense of wonder so fearless and unbridled. . . . There is an ambition about her book that I like...It is the ambition to feel." — Eudora Welty, New York Times Book Review
"One of the most distinctive voices in American letters today." — Boston Globe
"With Pilgrim at Tinker Creek, we suddenly find ourselves in the presence of an ecstatic and visionary genius. We are still there." — Geoff Dyer
"Spirited and gale-force. . . . The best thing is her glee, a pied-piperish glee at being in the world, which she invokes better than anyone else." — The Guardian
"Here is no gentle romantic twirling a buttercup...Miss Dillard is stalking the reader as surely as any predator stalks its game...Here is not only a habitat of cruelty and 'the waste of pain,' but the savage and magnificent world of the Old Testament, presided over by a passionate Jehovah with no Messiah in sight...A remarkable psalm of terror and celebration." — Melvin Maddocks, Time