Discounted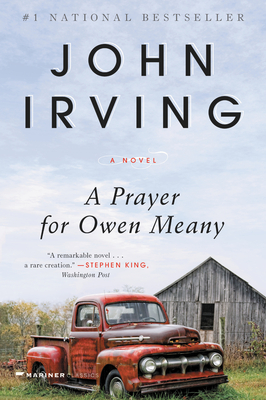 A Prayer for Owen Meany: A Novel
Previous price:

$19.99
Current price:

$17.99
Publication Date:
April 3rd, 2012
Publisher:
Mariner Books Classics
Usually Ships to Store in 4 to 7 Days
Description
"A remarkable novel. . . . A Prayer for Owen Meany is a rare creation. ... An amazingly brave piece of work ... so extraordinary, so original, and so enriching. . . . Readers will come to the end feeling sorry to leave [this] richly textured and carefully wrought world." —STEPHEN KING, Washington Post
I am doomed to remember a boy with a wrecked voice—not because of his voice, or because he was the smallest person I ever knew, or even because he was the instrument of my mother's death, but because he is the reason I believe in God; I am a Christian because of Owen Meany.
In the summer of 1953, two eleven-year-old boys—best friends—are playing in a Little League baseball game in Gravesend, New Hampshire. One of the boys hits a foul ball that kills the other boy's mother. The boy who hits the ball doesn't believe in accidents; Owen Meany believes he is God's instrument. What happens to Owen after that 1953 foul ball is extraordinary.
A PBS Great American Read Top 100 Pick
About the Author
John Irving has been nominated for a National Book Award three times—winning in 1980 for the novel The World According to Garp. In 1992, Irving was inducted into the National Wrestling Hall of Fame in Stillwater, Oklahoma. He won the 2000 Oscar for Best Adapted Screenplay for The Cider House Rules. In 2001, he was elected to the American Academy of Arts and Letters. Irving's most recent novel is In One Person (2012).
Praise for A Prayer for Owen Meany: A Novel
"A remarkable novel. . . . A Prayer for Owen Meany is a rare creation in the somehow exhausted world of late twentieth-century fiction—it is an amazingly brave piece of work . . . so extraordinary, so original, and so enriching. . . . Readers will come to the end feeling sorry to leave [this] richly textured and carefully wrought world." — STEPHEN KING, Washington Post
"The magic of A Prayer for Owen Meany is that it forces us into a confrontation with our own carapaces of skepticism . . . It is a brave and subtly disturbing affirmation of faith, and it is all the more remarkable for its engagement with the deepest questions, the most painful mysteries of our lives." — Los Angeles Times
"Among the very best American novels of our time." — Charlotte Observer
"[A] great novel." — Dallas Morning News
"A work of genius." — Independent (London)
"A heartbreaking masterpiece of a novel." — Sunday Express (London)