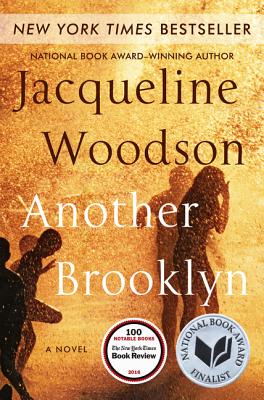 Another Brooklyn: A Novel
Publication Date:
August 9th, 2016
Usually Ships to Store in 4 to 7 Days
National Book Award-winning author Jacqueline Woodson has crafted a beautiful, heart-wrenching novel of a young girl's coming-of-age in Brooklyn. Effortlessly weaving poetic prose, Woodson tells the story of the relationships young women form, their yearning to belong, and the bonds that are created - and broken. Brooklyn itself is a vivid character in this tale -- a place at first harsh, but one that becomes home and plays a role in each character's future. Woodson is one of the most skilled storytellers of our day, and I continue to love and devour each masterpiece she creates!
August 2016 Indie Next List
Description
A Finalist for the 2016 National Book Award
New York Times Bestseller
A SeattleTimes pick for Summer Reading Roundup 2017
The acclaimed New York Times bestselling and National Book Award–winning author of Brown Girl Dreaming delivers her first adult novel in twenty years.
Running into a long-ago friend sets memory from the 1970s in motion for August, transporting her to a time and a place where friendship was everything—until it wasn't. For August and her girls, sharing confidences as they ambled through neighborhood streets, Brooklyn was a place where they believed that they were beautiful, talented, brilliant—a part of a future that belonged to them.
But beneath the hopeful veneer, there was another Brooklyn, a dangerous place where grown men reached for innocent girls in dark hallways, where ghosts haunted the night, where mothers disappeared. A world where madness was just a sunset away and fathers found hope in religion.
Like Louise Meriwether's Daddy Was a Number Runner and Dorothy Allison's Bastard Out of Carolina, Jacqueline Woodson's Another Brooklyn heartbreakingly illuminates the formative time when childhood gives way to adulthood—the promise and peril of growing up—and exquisitely renders a powerful, indelible, and fleeting friendship that united four young lives.
Praise for Another Brooklyn: A Novel
"Woodson's unsparing story of a girl becoming a woman recalls some of the genre's all-time greats: A Tree Grows in Brooklyn, The Bluest Eye and especially, with its darkly poetic language, The House on Mango Street." — Sarah Begley, Time
"An engrossing novel about friendship, race, the magic of place and the relentlessness of change." — People Magazine
"Woodson manages to remember what cannot be documented, to suggest what cannot be said. Another Brooklyn is another name for poetry." — Washington Post
"Woodson does for young black girls what short story master Alice Munroe does for poor rural ones: She imbues their everyday lives with significance." — Elle
"In Jacqueline Woodson's soaring choral poem of a novel…four young friends…navigate the perils of adolescence, mean streets, and haunted memory in 1970s Brooklyn, all while dreaming of escape." — Vanity Fair
"Another Brooklyn joins the tradition of studying female friendships and the families we create when our own isn't enough, like that of Toni Morrison's Sula, Tayari Jones' Silver Sparrow and Zami: A New Spelling of My Name by Audre Lorde. Woodson uses her expertise at portraying the lives of children to explore the power of memory, death and friendship. — Los Angeles Times Book Review
"…it is the personal encounters that form the gorgeous center of this intense, moving novel...Structured as short vignettes, each reading more like prose poetry than traditional narrative, the novel unfolds as memory does, in burning flashes, thick with detail..." — New York Times Book Review
"With Another Brooklyn, Jacqueline Woodson has delivered a love letter to loss, girlhood, and home. It is a lyrical, haunting exploration of family, memory, and other ties that bind us to one another and the world." — Boston Globe
"Woodson writes lyrically about what it means to be a girl in America, and what it means to be black in America. Each sentence is taut with potential energy, but the story never bursts into tragic flames; it stays strong and subtle throughout." — Huffington Post
"Gorgeously written and moving, Another Brooklyn is an examination of the complexities of youth and adolescence, loss, friendship, family, race, and religion." — Jarry Lee, Buzzfeed
"[E]ntwined coming-of-age narratives-lost mothers, wounded war vets, nodding junkies, menacing streetscapes-are starkly realistic, yet brim with moments of pure poetry." — Elle Books Feature
"…fine-cadenced prose…" — Wall Street Journal
"The novel's richness defies its slim page count. In her poet's prose, Woodson not only shows us backward-glancing August attempting to stave off growing up and the pains that betray youth, she also wonders how we dream of a life parallel to the one we're living." — Booklist (Starred Review)
"Another Brooklyn reads like a love song to girlhood…" — Bustle
"emotionally resonant work" — Seattle Times
"Jacqueline Woodson's Another Brooklyn is a gauzy, lyrical fever dream of a book." — Vox Magazine
"There are nothrowaway sentences in Another Brooklyn — each short, poetic line feels carefully loved and polished. The first half of this novel asks urgent questions; the second delivers uneasy, heartbreaking answers. At its core, this book is about fragility, how light shines in the broken places." — Anisfield-Wolf Book Awards
"Jacqueline Woodson is a gorgeous writer…lyrical prose, really, really beautiful." — Emma Straub, New York Times Bestselling author of Modern Lovers and The Vacationers
''…And Sister Jacqueline Woodson comes singing memory. Her words like summer lightning get caught in my throat and I draw her up from southern roots to a Brooklyn of a thousand names, where she and her three 'sisters' learn to navigate a new season. A new herstory. Everywhere I turn, my dear Sister Jacqueline, I hear your words, a wild sea pausing in the wind. And I sing…" — Sister Sonia Sanchez
"Jacqueline Woodson's Another Brooklyn is another kind of book, another kind of beautiful, a lyrical, hallucinatory, heartbreaking, and powerful novel. Every gorgeous page leads to another revelation, another poignant event or memory. This is an incredible and memorable book." — Edwidge Danticat, author of Claire of the Sea Light
"Jacqueline Woodson's Another Brooklyn is another kind of book, another kind of beautiful, a lyrical, hallucinatory, heartbreaking, and powerful novel. Every gorgeous page leads to another revelation, another poignant event or memory. This is an incredible and memorable book." — Ann Patchett, New York Times Bestselling Author of This Is the Story of a Happy Marriage and State of Wonder
"In this elegant and moving novel, Jacqueline Woodson explores the beauty and burden of growing up girl in 1970's Brooklyn through the lens of one unforgettable narrator. The guarded hopes and whispered fears that August and her girlfriends share left me thinking about the limits and rewards of friendship well after the novel's end. Full of moments of grief, grace, and wonder, Another Brooklyn proves that Jacqueline Woodson is a master storyteller." — Angela Flournoy, author of The Turner House, a finalist for the National Book Award
"Jacqueline Woodson's Another Brooklyn is a wonder. With a poet's soul and a poet's eye for image and ear for lyrical language, Woodson delivers a moving meditation on girlhood, love, loss, hurt, friendship, family, faith, longing, and desire. This novel is a love letter to a place, an era, and a group of young women that we've never seen depicted quite this way or this tenderly. Woodson has created an unforgettable, entrancing narrator in August. I'll go anywhere she leads me." — Naomi Jackson, author of The Star Side of Bird Hill
"Jacqueline Woodson's spare, emphatic novel about young women growing up in 1970s Bushwick brings some of our deepest silences-about danger, loss, and black girls' coming of age-into powerful lyric speech. Another Brooklyn is heartbreaking and restorative, a gorgeous and generous paean to all we must leave behind on the path to becoming ourselves." — Tracy K. Smith, Pulitzer Prize-Winning author of Life on Mars and Ordinary Light
"A stunning achievement from one of the quietly great masters of our time." — Kirkus Reviews, Starred Review
"Woodson…combines grit and beauty in a series of stunning vignettes, painting a vivid mural of what it was like to grow up African-American in Brooklyn during the 1970s…Woodson draws on all the senses to trace the milestones in a woman's life and how her early experiences shaped her identity." — Publishers Weekly, (Boxed and Starred Review)
"With spare yet poetic writing, this long-awaited adult novel by National Book Award winner Woodson (Brown Girl Dreaming) is a series of vignettes narrated by August, shortly after her dad's funeral and a chance encounter with an old friend." — Library Journal (starred review)
"Perhaps unsurprisingly, given Woodson's background not only as a novelist but also as a poet, Another Brooklyn is told in spare, lyrical prose, with a surface simplicity that belies its underlying narrative strength and emotional heft. Often, in Woodson's novel, what isn't said is as essential as what is, and readers come away feeling as if they, in the process of reading the novel, are somehow partners in Woodson's project of telling her poignant and devastating story about dreams deferred, destroyed, and—in rare cases—realized." — BookBrowser Review