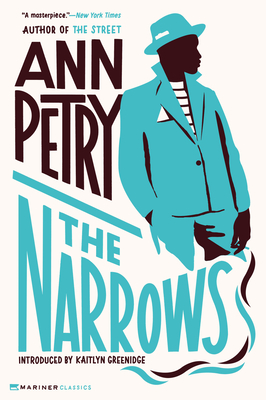 The Narrows: A Novel
Publication Date:
January 10th, 2023
Publisher:
Mariner Books Classics
Usually Ships to Store in 4 to 7 Days
Description
"Petry is the writer we have been waiting for; hers are the stories we need to fully illuminate the questions of our moment, while also offering a page-turning good time. Ann Petry, the woman, had it all, and so does her insightful, prescient and unputdownable prose." — Tayari Jones, New York Times Book Review
From author of the bestselling novel The Street, a "masterpiece of social realism" (Wall Street Journal) about a tragic love affair, and a powerful look into how class, race, and love intersected in midcentury America.
With a new introduction by Kaitlyn Greenidge, author of Libertie.
"The Narrows deftly explores what it means to have an interior life under the unrelenting gaze of whiteness...it is a master class in using descriptions of place and space to explore the realities of race, gender, class and psychology."—Kaitlyn Greenidge, from her introduction
It's Saturday, past midnight, and thick fog rolls in from the river like smoke. Link Williams is standing on the dock when he hears quick footsteps approaching, and the gasp of a woman too terrified to scream. After chasing off her pursuer, he takes the woman to a nearby bar to calm her nerves, and as they enter, it's as if the oxygen has left the room: they, and the other patrons, see in the dim light that he's Black and she's white.
Link is a brilliant Dartmouth graduate, former athlete and soldier who, because of the lack of opportunities available to him, tends bar; Camilo is a wealthy married woman dissatisfied with and bored of her life of privilege. Thrown together by a chance encounter, both Link and Camilo secretly cross the town's racial divide, defying the social prejudices of their times.
In this stunning and heartbreaking story, Petry illuminates the harsh realities of race and class through two doomed lovers. This profound, necessary novel stakes Petry's place as an indelible writer of American literature. 
"I've recently had my brain re-wired by Ann Petry, and it's that exhilarating feeling of falling in love with one of your lifetime writers for the first time." —Brandon Tyler
Praise for The Narrows: A Novel
"The Street and The Narrows are masterpieces of social realism . . . . [Petry's] writing transcends comparisons. It's volatile but exacting, heartbreaking but often brutally funny. Labels don't stick to it." — Wall Street Journal
"The Narrows represents the full flowering of Petry's preoccupation with human relationships." — Hilary Holladay
"Petry will always feel on time. Her kind of talent will always feel startling and sui generis. . . . Her work endures not only because it illuminates reality, but because it harnesses the power of fiction to supplant it."  — Parul Seghal, New York Times