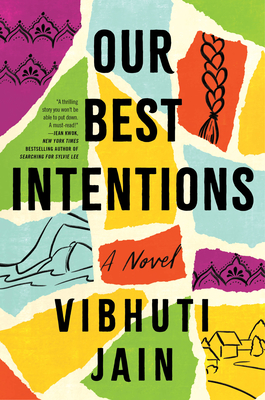 Our Best Intentions: A Novel
Publication Date:
March 14th, 2023
Publisher:
William Morrow
Rozzie Bound Co-op
1 on hand, as of Jun 1 6:11pm
(Fiction )
On Our Shelves Now
Description
A GMA Buzz Pick!
NPR 1A Inaugural Book Club Pick
A 'Must-Read' by USA Today!
A suspenseful drama about an immigrant family caught in a criminal investigation, perfect for readers of Celeste Ng's Everything I Never Told You.
"Our Best Intentions is a thoughtful, gripping suspense that shakes up definitions of family and identity in a beautiful and refreshing way!" —Kal Penn, actor and national bestselling author of You Can't Be Serious
Babur "Bobby" Singh, single parent and owner of fledging Uber business "Move with Bobby," remains ever hopeful about ascending the ladder of American success. He lives in an affluent suburb of New York with his daughter Angie, an introverted teenager who is uncomfortable in her own skin unless she's swimming.
During summer break, Angie is walking home after training at the high school pool when she finds Henry McCleary, a classmate from a wealthy, prominent family, stabbed and bleeding on the football field. The police immediately focus their investigation on Chiara Thompkins, a runaway Black girl who disappears after the stabbing and—it's later discovered—wasn't properly enrolled in the public high school.
The incident sends shock waves through the community and reveals jarring truths about the lengths to which families will go to protect themselves. As the town fractures, Angie must navigate conflicting narratives and wrestle with her own moral culpability. Meanwhile, Babur's painstaking efforts to shield Angie and protect his hard-earned efforts to assimilate overshadow his ability to see right from wrong.
Alternating between multiple perspectives, Our Best Intentions is a pulsating story about a father and daughter re-examining their familial bonds and place in the community. Both a gripping page-turner and an intimate portrait of an immigrant family, Vibhuti Jain's provocative debut explores how easily friendships, careers, communities, and individual lives can unravel when the toxicity of privilege and racial bias are exposed.
Praise for Our Best Intentions: A Novel
"As readers, we are so often given feel-good stories of people surmounting the odds, of justice being wrangled back into the hands of those who deserve it. Instead of that, in a novel that will leave you aching—and thinking—Jain asks us to consider what a world might look like if justice really were for everyone, and any one of us could just "happen" to be in the right place at the right time." — New York Times
"Fans of Celeste Ng will instantly connect with this subtly funny thriller about a wealthy suburban community struggling in the aftermath of a crime that exposes the town's deeply buried issues of privilege and bias." — The Hollywood Reporter
"This moving, thought-provoking debut will be a hit with book clubs, and fans of Celeste Ng should take note." — Booklist (starred review)
"Jain's riveting debut centers on a stabbing at a high school…. Jain excels at revealing each character's motivations and fears, and at how easily the truth can be distorted. This page-turner will stay with readers." — Publishers Weekly (starred review)
"With subtlety, humor and piercing insight, Vibhuti Jain creates a propulsive page-turner that will touch your heart. This is a gorgeous and complex exploration of race, immigration and class wrapped up in a thrilling story you won't be able to put down. A must-read!" — Jean Kwok, New York Times bestselling author of Searching for Sylvie Lee
"Our Best Intentions is a thoughtful, gripping suspense that shakes up definitions of family and identity in a beautiful and refreshing way! This is a must-read for its characters, representation, layered story, and most wonderfully—Jain's gripping writing. It's the kind of story that makes you want more."  — Kal Penn, actor and nationally bestselling author of You Can't Be Serious
"Vibhuti Jain's debut novel is marked by crime and prejudice, building to a story of human nature at its most vulnerable and manipulative…. Jain excels at developing multidimensional characters and an atmosphere of intrigue while also calling attention to the complicated web of class and race dynamics." — BookPage
"Our Best Intentions, the lyrical debut by Vibhuti Jain, is equal parts suspense and the best kind of literary fiction. Centered on the assault of a wealthy teen by a Black classmate, this novel is a heartbreaking story of class, family, and the tragedy that often occurs when the two intersect."  — Julie Clark, New York Times bestselling author of The Last Flight and The Lies I Tell 
"Coming-of-age drama meets suburban thriller…a powerful, story-driven exploration of some of today's most pressing social issues." — Kirkus Reviews
"Our Best Intentions realistically shows the endemic discrimination in the justice system." — Buzzfeed
"Few literary pleasures equal that of coming upon the first novel of a supremely talented writer. Among the many gifts of Vibhuti Jain's Our Best Intentions is the relationship of father and daughter—each the parent of the other—which is perfectly drawn, exquisite. There's a real story here too. And important social issues raised. But we keep coming back to the two at the center, whom we carry with us long after the last page." — Roger Rosenblatt, New York Times bestselling author of Making Toast
"Vibhuti Jain has crafted a powerful story of an Indian father and daughter entangled in a calamitous event that ripples through their wealthy suburb. In having to face their moral obligations and even their complicity, the pair see their community with new eyes, as they grapple with the racial biases and class disparities that are foundational to their hometown. But father and daughter finally see each other too, and their wary yet hopeful love for each other is the beating heart of this moving, remarkable novel."  — Kirthana Ramisetti, author of Dava Shastri's Last Day
"Vibhuti Jain's gripping debut novel, Our Best Intentions, about a working class Indian American father and daughter who get entangled in a criminal investigation of a brutal assault on a privileged white teenager in their wealthy suburban town, is both thought-provoking and riveting. Jain brilliantly captures the teenage angst and parent-child tensions, while also tackling issues of race and belonging with empathy and grace. The characters are so real they will stay with you long after you've finished the book."  — Elyssa Friedland, author of Last Summer at the Golden Hotel and The Most Likely Club
"In Vibhuti Jain's gripping debut novel, a truly diverse array of 21st-century lives collide on a high school football field on the Hudson River. Jain writes elegantly and with great empathy about the historical legacies and class tensions that shape every American community. A crime novel that's really a family love story—and a story about swimming to safety. I couldn't put it down." — Katherine Hill, author of The Violet Hour and A Short Move
"[A] raw, unapologetic look at the way marginalized groups are mistreated and misjudged." — Culturess
"Vibhuti Jain's compelling novel challenges the carefully constructed American myths of the nice town and the striving immigrant success story, providing a nuanced take on the ways in which families and communities seek to protect themselves, even in the face of larger moral obligations...I tore through this book, rooting for the well-drawn characters despite their flaws, and despite knowing, as Jain shows us, that no amount of hard work, no number of laps swum, or even connections tapped and money paid, will ever let us fully outrun our pasts." — Rita Cameron, author of The House Party
"Taut and moving, this story contains the powder keg tensions of racial dynamics in suburban America and deeply felt heartbreak of growing up, making big irrevocable mistakes, and how we feel for, and struggle to connect with, the people we love most. It's absorbing and vivid, sharp with detail and beautifully empathetic."  — Leah Franqui, author of After the Hurricane and America for Beginners
"Our Best Intentions offers a searing portrait of an immigrant father and daughter caught in the cross-currents of a shocking incident in their wealthy town. With a keen eye and immense empathy, Vibhuti Jain explores complicated topics in a beautiful debut that will leave you thinking long after you've turned the final page." — Laura Hankin author of A Special Place for Women and Happy and You Know It