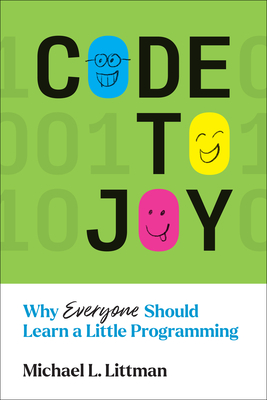 Code to Joy: Why Everyone Should Learn a Little Programming
Publication Date:
October 3rd, 2023
Rozzie Bound Co-op
1 on hand, as of Dec 7 6:12pm
(Computers )
On Our Shelves Now
Description
How we can get more joy from our machines by telling them what our hearts desire.
In this informative, accessible, and very funny book, Michael L. Littman inspires readers to learn how to tell machines what to do for us. Rather than give in to the fear that computers will steal our jobs, spy on us and control what we buy and whom we vote for, we can improve our relationship with them just by learning basic programming skills. Our devices will help us, Littman writes, if we can say what we want in a way they can understand.
Each chapter of the book focuses on a particular element of what can be said, providing examples of how we use similar communication in our daily interactions with people. Littman offers ways readers can experiment with these ideas right away, using publicly available systems that might also make us more productive as a welcome side effect. Each chapter also reflects on how the use of these programming components can be expedited by machine learning. With humor and teacherly guidance, Code to Joy brings into view a future where programming is like reading—something everyone can learn.