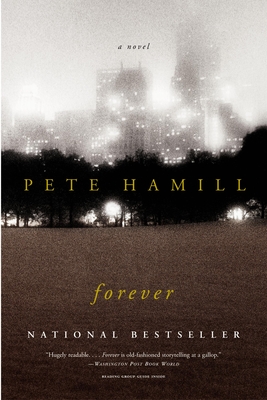 Forever: A Novel
Publication Date:
November 3rd, 2003
Publisher:
Back Bay Books
Usually Ships to Store in 4 to 7 Days
Description
This widely acclaimed bestseller is the magical, epic tale of an extraordinary man who arrives in New York in 1740 and remains . . . forever.
Through the eyes of Cormac O'Connor -- granted immortality as long as he never leaves the island of Manhattan -- we watch New York grow from a tiny settlement on the tip of an untamed wilderness to the thriving metropolis of today. And through Cormac's remarkable adventures in both love and war, we come to know the city's buried secrets -- the way it has been shaped by greed, race, and waves of immigration, by the unleashing of enormous human energies, and, above all, by hope.
About the Author
Pete Hamill (1935-2020) was a novelist, journalist, editor, and screenwriter. He was the author of twenty-two books, including the bestselling novels Tabloid City, North River, Forever, and Snow in August, and the bestselling memoir A Drinking Life. 
Praise for Forever: A Novel
"Hugely readable....Forever is old-fashioned storytelling at a gallop."—Washington Post Book World
"A swashbuckling, ribald tale told with flair and, sometimes, unbridled emotion. At the same time it is a serious look at what makes a city more than just bricks and mortar."—Tom Walker, Denver Post
"New York grows from a village-with wolves stalking its forests - in a town and eventually a city. Cormac O'Connor plays a role in a slave revolt, the American Revolution, and the great fire of 1835....O'Connor thinks, 'No many people know anything about their own past and New Yorkers are the most amnesiac of all." Forever should change that."—Bob Minzesheimer, USA Today
"A grand, dark, swashbuckling, yet essentially simple tale about a man's lifelong journey from revenge to mercy, hate to love."—Jodi Daynard, Boston Globe
"A tabloid epic in a folkloric style... Forever is fueled by the cruel dictates of history - corruption, exploitation, murder - but it wholeheartedly celebrates human goodness at every turn."—Troy Patterson, Entertainment Weekly