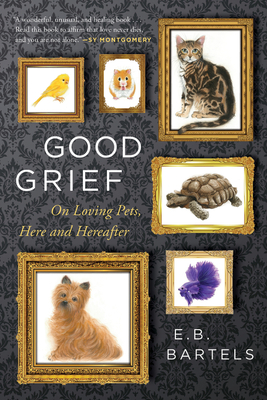 Good Grief: On Loving Pets, Here and Hereafter
Publication Date:
August 2nd, 2022
Rozzie Bound Co-op
3 on hand, as of Jun 1 6:11pm
(Pets )
On Our Shelves Now
Description
An unexpected, poignant, and personal account of loving and losing pets, exploring the singular bonds we have with our companion animals, and how to grieve them once they've passed.
E.B. Bartels has had a lot of pets—dogs, birds, fish, tortoises. As varied a bunch as they are, they've taught her one universal truth: to own a pet is to love a pet, and to own a pet is also—with rare exception—to lose that pet in time.
But while we have codified traditions to mark the passing of our fellow humans, most cultures don't have the same for pets. Bartels takes us from Massachusetts to Japan, from ancient Egypt to the modern era, in search of the good pet death. We meet veterinarians, archaeologists, ministers, and more, offering an idiosyncratic, inspiring array of rituals—from the traditional (scattering ashes, commissioning a portrait), to the grand (funereal processions, mausoleums), to the unexpected (taxidermy, cloning). The central lesson: there is no best practice when it comes to mourning your pet, except to care for them in death as you did in life, and find the space to participate in their end as fully as you can.
Punctuated by wry, bighearted accounts of Bartels's own pets and their deaths, Good Grief is a cathartic companion through loving and losing our animal family.
Praise for Good Grief: On Loving Pets, Here and Hereafter
"Good Grief is just what the doctor ordered—a wonderful, unusual, and healing book, full of wisdom and compassion. Nothing can erase the searing sorrow of losing an animal you love. But this insightful, inspiring, intelligent book will offer real comfort. E.B. Bartels' extensive and fascinating research reveals deep and transformative truths about the essential process of grieving. Read this book to affirm that love never dies, and you are not alone."  — Sy Montgomery, New York Times bestselling author of How to Be a Good Creature
"In this offbeat yet heartfelt debut, essayist Bartels digs into the fraught topic of pet death... Bartels covers [the topic of mourning rituals] with pathos and wit, and lends her narrative a touching personal spin by documenting the demise of her scaled and feathered childhood companions... Animal lovers shouldn't pass up this illuminating and thoroughly charming work." — Publishers Weekly
"Bartels does an excellent job of making a grieving pet parent feel seen. . . An insightful look into many cultures and grief practices pertaining to humans and their furry (or scaly) friends from around the world." — Library Journal
"These deeply personal and heartfelt stories will affect anyone who has had a pet. . .Illuminates our human desire to bond with and honor our fellow creatures." — Booklist
"If you've ever had a pet, or loved a pet, this is a must-read. . . It's a gentle, insightful, funny book that reminds us why we open ourselves up to the animals in our lives." — Book Riot
"Good Grief is a love letter to animal family had and lost, and a much needed hand to hold in the lonesome after. If ever you've felt unseen in grieving for an animal companion, this book will heal you with traditions, new and old—a love known the world over. Bartels' storytelling is gentle, generous, and joyful. In Good Grief you'll find the community that is essential not only to mourning, but to celebration." — T Kira Madden, author of Long Live the Tribe of Fatherless Girls
"Compassionate and revelatory. . .Bartels draws on her vast experience as a lifelong pet-owner as she explores the powerful and evanescent bonds between humans and their companion animals. . .[Good Grief is] a moving and kaleidoscopic portrait of the abiding love between humans and animals—a love that transcends the boundaries of time and culture." — Chicago Review of Books
"Good Grief is a tender and often funny guide that celebrates the imaginative and far-fetched and entirely ordinary ways we grieve, celebrate, and memorialize—and, yes, sometimes try to preserve—our departed pets. While author E.B. Bartels provides arcane and fascinating details of mummification, cloning, taxidermy, and freeze drying, the heart of Good Grief lies in the profound lessons our animal companions provide—both in life and in death."  — Cat Warren, New York Times bestselling author of What the Dog Knows
"In writing and researching Good Grief, E.B. Bartels has given us animal lovers a gift. This book oozes empathy, is full of fun facts (wait until you read about Man O'War's funeral!), and Bartels is a wonderful writer and a trustworthy guide. If you have ever grieved the loss of an animal friend, you will find your people in these pages. I found it a supreme comfort and a total joy, and it's a book I will treasure forever."   — Annie Hartnett, author of Unlikely Animals and Rabbit Cake
"A poignant and fascinating read that demonstrates how deeply connected humans have always been to their pets. Anyone who has loved a pet will love Good Grief."
— Sarah Chavez, Executive Director, the Order of the Good Death 
"Bartels has written a rich, informed, and personal meditation on how we say goodbye to our pets. There's comedy afoot, but it's cloaked in a moving respect for the deep love between animals and their people." — Matthew Gilbert, author of Off the Leash
"A warm homage to a special bond." — Kirkus Reviews