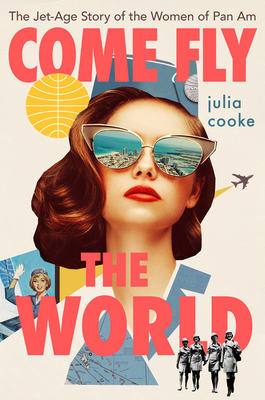 Come Fly The World: The Jet-Age Story of the Women of Pan Am
Publication Date:
April 26th, 2022
Usually Ships to Store in 4 to 7 Days
Description
Glamour, danger, liberation: in a Mad Men era of commercial flight, Pan Am World Airways attracted the kind of young woman who wanted out, and wanted up
Required to have a college degree, speak two languages, and possess the political savvy of a Foreign Service officer, a jet-age stewardess serving on iconic Pan Am between 1966 and 1975 also had to be between 5′3″ and 5′9", between 105 and 140 pounds, and under twenty-six years old at the time of hire. Cooke's intimate storytelling weaves together the real-life stories of a memorable cast of characters, from small-town girl Lynne Totten, a science major who decided life in a lab was not for her, to Hazel Bowie, one of the relatively few Black stewardesses of the era, as they embraced the liberation of their new jet-set life.
Cooke brings to light the story of Pan Am stewardesses' role in the Vietnam War, as the airline added runs from Saigon to Hong Kong for planeloads of weary young soldiers straight from the battlefields who were off for five days of R&R, and then flown back to war. Finally, with Operation Babylift—the dramatic evacuation of two thousand children during the fall of Saigon—the book's special cast of stewardesses unites to play an extraordinary role on the world stage.
Praise for Come Fly The World: The Jet-Age Story of the Women of Pan Am
"After a year of severe restrictions on travel…[Julia Cooke's] book looking back at the height of the jet age offers more than one delicious flavor of escapism…a front-row view of history."—The Washington Post    "In the 1960s and 70s, Pan Am stewardesses changed a sexualized job requiring weigh-ins and retirement at 26 into a forum for serious work. They became ambassadors, transported traumatized soldiers, rescued Vietnamese children in Operation Babylift. A fascinating history of a bygone era."—People Magazine   "This engrossing account, which reads like a novel, offers a combination of riveting personal stories and little-known history, and will draw in readers from the first page. A must-read."—STARRED, Library Journal   "An entertaining, insightful look into a gritty and glamorous era in air travel."—STARRED Kirkus Reviews "Thoughtful, well-researched and utterly engaging, Come Fly the World is smart escapist journalism and a tribute to hundreds of women who were much more than just a crew of pretty faces….Journalist Julia Cooke paints a riveting, complex portrait of the adventurous lives of Pan Am stewardesses during aviation's golden age."—​Shelf Awareness  "Female roles were transformed over the Pan Am decades, but stewardesses remained in a strange no-woman's land—smiling, servile symbols of male fantasy but also working women traveling the globe in challenging jobs when most of their peers were at home with families. Come Fly the World opens an intimate porthole into the life they chose aboard Pan American." —Air Mail   "Journalist Cooke (The Other Side of Paradise) recounts in this dramatic history the surprising role Pan Am stewardesses played in the Vietnam War….Skillfully intertwining jet-age excitement with the tumultuous politics of the era, this is a unique and compassionate portrait of barrier-breaking women in the 1960s and '70s." —Publishers Weekly "At the dawn of the jet set era of boundless commercial flight, women could travel the world as stewardesses [and] engage in soft diplomacy and foreign affairs against the backdrop of the Vietnam War...For those who miss Mad Men, this is a must read." —​New York Observer   "Come Fly the World tells the story of adventurous women navigating a world on the cusp of change. In confident, clear-eyed, multi-layered prose, Julia Cooke brings to life the true stories of unforgettable Pan-Am stewardesses who defied convention, to seek more from life than they were given. This is a well-researched and fascinating history of air travel, gender equality, and so much more."—Rachel Khong, author of Goodbye, Vitamin     "Before second-wave feminism came along to challenge the admissions policies of law, medical, and business schools, there were stewardesses—women every bit as daring and determined as their later counterparts in the professions, and having more fun. Julia Cooke's Come Fly the World reveals an unexpected chapter in American history as inspiring as it is informative—a rollicking, rambunctious ride down the runway of mid-century modern life that flies straight into the headwinds of Civil Rights politics and the Vietnam War."—Megan Marshall, author of Pulitzer Prize-winning Margaret Fuller: A New American Life and Elizabeth Bishop: A Miracle for Breakfast&nb —