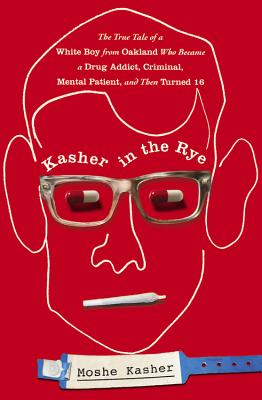 Kasher in the Rye: The True Tale of a White Boy from Oakland Who Became a Drug Addict, Criminal, Mental Patient, and Then Turned 16
Publication Date:
March 28th, 2012
Publisher:
Grand Central Publishing
Usually Ships to Store in 4 to 7 Days
Description
"The finest, most moving and powerful memoir I have ever read."—MAYIM BIALIK
Rising young comedian Moshe Kasher is lucky to be alive. He started using drugs when he was just 12. At that point, he had already been in psychoanlysis for 8 years. By the time he was 15, he had been in and out of several mental institutions, drifting from therapy to rehab to arrest to...you get the picture. But Kasher in the Rye is not an "eye opener" to the horrors of addiction. It's a hilarious memoir about the absurdity of it all.
When he was a young boy, Kasher's mother took him on a vacation to the West Coast. Well it was more like an abduction. Only not officially. She stole them away from their father and they moved to Oakland , California. That's where the real fun begins, in the war zone of Oakland Public Schools. He was more than just out of control-his mother walked him around on a leash, which he chewed through and ran away.
Those early years read like part Augusten Burroughs, part David Sedaris, with a touch of Jim Carrol...but a lot more Jewish. In fact, Kasher later spends time in a Brooklyn Hasidic community. Then came addicition...
Brutally honest and laugh-out-loud funny, Kasher's first literary endeavor finds humor in even the most horrifying situations.
Praise for Kasher in the Rye: The True Tale of a White Boy from Oakland Who Became a Drug Addict, Criminal, Mental Patient, and Then Turned 16
"The finest, most moving and powerful memoir I have ever read. A complicated and heartbreakingly beautiful analysis of a life of addiction and mental health with a perfect dose of humor."—Mayim Bialik
"Moshe Kasher is a comic genius. In his memoir, KASHER IN THE RYE, he is able to perform an act of comedic magic which is reserved only for the true greats, such as Richard Pryor, Lenny Bruce, and Mitch Hedberg. Kasher's memoir will take you on a dark and hilarious journey of drugs, alcohol, and madness. But, by the time you reach the end of this book, you will be filled with hope and inspiration that even the most vulnerable can find redemption and recovery." --Artie Lange, #1 New York Times bestselling author of Too Fat to Fish
"Out of all the Hip Hop Jewish kids I know with deaf Orthodox parents, Kasher is the funniest. This book is thoughtful, touching, a bit harrowing and hilarious. Don't shy away because his name is Moshe, it's not too 'Jewy'. Emmis." --Marc Maron, comedian and host of the WTF podcast
"Travelling the hard road from teenage addiction to recovery, from lost boy to human being, Moshe Kasher tells it straight. His book over-brims with bravado and heart-breaking awareness, and with an authenticity that rings so true it's shattering. Frank and, above all, funny, this book is a marvel. I couldn't put it down." --M.A.C. Farrant, author of My Turquoise Years & reviewer for Toronto Globe & Mail
"Hysterical, heartbreaking, flat-out hilarious...after KASHER IN THE RYE, Moshe Kasher will no longer be known just as a brilliant, cutting edge young comic, but as a genuine monster writer of the highest order. Think Holden Caulfield on dope and bagels, with a side of crime and insane asylums. This is the kind of book that makes you want to wake up everyone you know at three in the morning and scream at them to read. Little Moshe Kasher lived a life no one should have to endure, and we're lucky he survived to write about it. He is living proof that whatever doesn't kill you makes you funnier. I fucking loved this book." --Jerry Stahl, New York Times bestselling author of Permanent Midnight