Discounted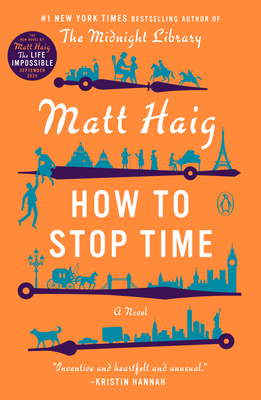 How to Stop Time: A Novel
Previous price:

$18.00
Current price:

$17.00
Publication Date:
June 11th, 2019
Usually Ships to Store in 4 to 7 Days
Both incredibly poignant and unceasingly charming, How to Stop Time is the story of a man who has an abundance of time and a scarcity of love. Tom Hazard ages very slowly, so slowly that nothing feels new to him as memories from the past crowd every moment of his present. He has also discovered that time without the people we love loses all meaning. Matt Haig takes us from Shakespeare's London to the Roaring Twenties in Paris, from conquering the new world with Captain Cook to present-day Los Angeles. Scenes both familiar and exotic thrum with life, but the real magic is in how he makes us believe in this 439-year-old man who is only now learning how to live.
February 2018 Indie Next List
Tom Hazard, born well over 400 years ago, ages just one year for every 15 he lives—is it a blessing or a curse? Encounters with Shakespeare, Captain Cook, and F. Scott and Zelda Fitzgerald leave him wanting an ordinary life, but, fearing falling in love and forming close friendships he will inevitably lose, Tom comes to realize a universal truth: real companionship is essential for life to be lived. Matt Haig has written classics for children; now he has written one for adults that book clubs will savor.
Summer 2019 Reading Group Indie Next List
Description
From the #1 New York Times bestselling author of The Midnight Library, "a quirky romcom dusted with philosophical observations….A delightfully witty…poignant novel." (The Washington Post)

Soon to be a TV series starring Benedict Cumberbatch
How many lifetimes does it take to learn how to live?
Tom Hazard has a dangerous secret. He may look like an ordinary 41-year-old history teacher, but he's been alive for centuries. From Elizabethan England to Jazz-Age Paris, from New York to the South Seas, Tom has seen it all. As long as he keeps changing his identity he can keep one step ahead of his past - and stay alive. The only thing he must not do is fall in love . . .
Praise for How to Stop Time: A Novel
"Matt Haig's latest book, How To Stop Time, is marvelous in every sense of the word. Clever, funny, poignant, and written with Haig's trademark blend of crystalline prose and deft storytelling, this is a book that stirs the heart and mind in equal measure. A hugely enjoyable read." —Deborah Harkness, author of The All Souls Trilogy
"Inventive and heartfelt and unusual. . . . [How To Stop Time] made for a great summer read." —Kristin Hannah, New York Times bestselling author of The Nightingale
"Compelling and full of life's big questions, How To Stop Time is a book you will not be able to put down." —Graeme Simsion, author of The Rosie Project
"Matt Haig has an empathy for the human condition, the light and the dark of it, and he uses the full palette to build his excellent stories." —Neil Gaiman, author of American Gods
"Haig remains a keen-eyed observer of contemporary life. . . his dialogue has snap and charm." —The New York Times
"A wry, intriguing meditation on time and an eternal human challenge: how to relinquish the past and live fully in the present." —People

"[How To Stop Time] is fantastic" —Brad Thor, New York Times bestselling author of Spy Master

"A quirky romcom dusted with philosophical observations….A delightfully witty…poignant novel." —The Washington Post
"Time is all about the moments, not the space between them. Haig has done a fine job of capturing a few beautiful ones like butterflies in a jar — instants of love or rage or heartbreak. And one of them is even the night that Tom Hazard spent drinking ale with Shakespeare." —NPR
"The central character of the poignant new novel How to Stop Time is 41-year-old Tom Hazard, a man who has been alive for centuries, and who moves every eight years in order to avoid detection. As he settles into a new life in London, he realizes that the one thing that would derail his (very long) life—falling in love—might just be worth it." —Southern Living
"A time traveling love story… [and] a coming-of-age tale that continues for centuries. It's The Time Traveler's Wife meets The Curious Case of Benjamin Button, yet manages to be even more unique." —HelloGiggles
"How to Stop Time is a clever, beautifully crafted novel about love, history, and the tangled mess that comes with trying to live a human life of any length." —Bustle
"Matt Haig uses words like a tin-opener. We are the tin." —Jeanette Winterson, author of Why Be Happy When You Could Be Normal?
"Haig has been gifted with a rare ability, which is to make the far-fetched – and even ridiculous – seem believable. His books tickle your mind and tug on your heart, and their pages slip by with beguiling ease. . . How to Stop Time will provoke wonder and delight."  —The Guardian
"But How to Stop Time is also a considered, heartfelt document, as you might expect from an author who wrote an internationally bestselling memoir of depression, Reasons to Stay Alive. It unfolds its secrets carefully: an action-packed but often sad story for slow, long-term thinkers.  Wrapped inside this sci-fi school sitcom premise is a poetic manifesto of what really matters in the long run. One that Jeff Bezos, Elon Musk and Mark Zuckerberg would do well to read." —Mashable
"The lively creativity of Matt Haig continues to delight and enchant readers. In How to Stop Time, he offers a well-drawn cast of vivid characters embroiled in an inventive, fast-paced story that successfully blends fantasy, romance, comedy and adventure."—Shelf Awareness
"Matt Haig is astounding." —Stephen Fry
"Inventive, exciting, moving and bursting with insight about history, time and what it is to be human." —Kate Williams, author of Becoming Queen Victoria

"I loved How to Stop Time, it's a beautiful and necessary book. I feel very lucky to have read it. It is magical, intriguing, and at times, very sad. A triumph." —Marian Keyes, author of The Woman Who Stole My Life

"I am in concert with Haig's fans as I read the book, turning pages for the story but also stopping to underline passages. I want to remember the lines. I want to read out loud to someone. Nothing like a love that lasts 400 years." —Publisher's Weekly
"How to Stop Time is a bittersweet story about the meaning of life."—Kirkus
"An addictive, time-travelling tale which unfolds at a cracking pace" —The Bookseller (London), Book of the Month
"An engaging story framed by a brooding meditation on time and meaning." —The Austin American-Statesman
"Full of Haig's trademark humour and humanity, this is a wonderfully entertaining ride through centuries of adventure. Gloriously heart-warming." —Sunday Mirror (London)
"A story you've been longing to read . . . Haig's proficiency in writing for children has lent a gentleness that cuts to the very heart of this work and its readers." —Evening Standard London), "The Best Books to Read This Summer"
"How to Stop Time is a worthy addition to the time-travel canon, hugely entertaining, quietly funny and, at its best moments, contemplative and brooding." —John Boyne, Irish Times (Dublin)