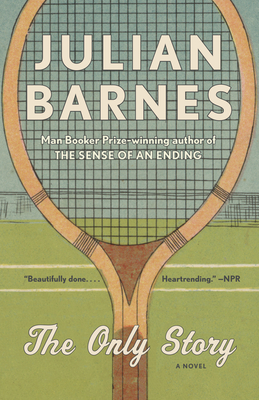 The Only Story: A novel (Vintage International)
Publication Date:
March 5th, 2019
The Only Story, a love story that captivated me from the very first page, tells of Paul, a young man who at the age of 19 falls in love with a woman almost 30 years his senior. Now in the sunset of his life, Paul looks back with tenderness on the life they had together, how everything fell apart, and how his life evolved as a result. I loved the author's reflections on love and found myself savoring his words, not wanting the book to end. A beautiful story from a superb writer.
May 2018 Indie Next List
Description
From the bestselling, Booker Prize-winning author of The Sense of an Ending comes "a brilliant, rueful look at love—what we do for it, how we experience it and what makes it die" (People).

One summer in the sixties, in a staid suburb south of London, nineteen-year-old Paul comes home from university and is urged by his mother to join the tennis club. There he's partnered with Susan Macleod, a fine player who's forty-eight, confident, witty, and married, with two nearly adult daughters. She is a warm companion, her bond with Paul immediate. And soon, inevitably, they are lovers.
Basking in the glow of one another, they set up house together in London. Decades later, Paul looks back at how they fell in love and how—gradually, relentlessly—everything fell apart. As he turns over his only story in his mind, examining it from different vantage points, he finds himself confronted with the contradictions and slips of his own memory—and the ways in which our narratives and our lives shape one another. Poignant, vivid and profound, The Only Story is a searing novel of memory, devotion, and how first love fixes a life forever.
Praise for The Only Story: A novel (Vintage International)
ONE OF THE BEST BOOKS OF THE YEAR: SAN FRANCISCO CHRONICLE and FINANCIAL TIMES
"Beautifully done. . . . Heartrending." —NPR
"Brilliant. . . . [Holds] a commitment not only to great storytelling but also to exploring how stories are told." —San Francisco Chronicle
"Written with crystalline retrospection. . . . The youthful missteps that give shape to life is Julian Barnes's great theme." —Vogue

"Exquisite. . . . Devastatingly convincing. . . . A definitive account of how romantic love becomes trapped in its own frame." —The Guardian

"Much of the pleasure in The Only Story comes from the wit and verbal precision that Barnes allows his narrator. . . . Barnes's switch from voice to voice is at once understated and dazzling." —The New York Review of Books

"Vivid. . . . Mr. Barnes is a master of the novel that unfolds cleanly before the reader and yet interrogates itself as it is told." —The Economist
"So sad and so powerful." —Anne Tyler, The Guardian
"A bleak and brilliant novel about memory and what ultimately matters most." —Financial Times

"The prose master paints a lovely, elegiac portrait of a young man's disruptive love affair . . . forgoing the easy literary clichés of May-December romance for something much sadder, deeper, and more resonant." —Entertainment Weekly

"Haunting. . . . A brilliant, rueful look at love—what we do for it, how we experience it and what makes it die." —People
"Beautiful. . . . Profoundly enjoyable. . . . Through his precise attention to the marvels of love and his perfect stylistic accompaniments to each state—Barnes has once again shown himself capable of transforming the mundane and ephemeral into the lyrical and lasting." —Los Angeles Review of Books

"Heartbreaking. . . . It's a cliché to say the love is inexplicable, but the strength of The Only Story is Barnes's willingness to explore the nature of that inexplicability, how it makes for honeymoons and tragedies alike." —Newsday
"One of the best works of his career." —Houston Chronicle  

"A thought-provoking meditation on memory and the seemingly endless complexities of love. . . . Barnes' prose is quietly elegant and adroit. . . . [The Only Story] has strong, memorably drawn characters and a keen sense of time and place." —Richmond Times-Dispatch

"Shows a novelist at the height of his powers. . . . A book that quietly sinks its hooks into the reader and refuses to let go." —The Times (London)