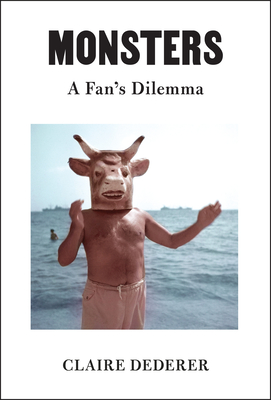 Monsters: A Fan's Dilemma
Publication Date:
April 25th, 2023
Rozzie Bound Co-op
2 on hand, as of Nov 30 6:12pm
On Our Shelves Now
Claire Dederer tackles the timeless question of what to do with the art of monstrous men in this insightful book,through a feminist lenswhich critiques capitalism as well as cancel culture. A fantastic book for all who consume.
May 2023 Indie Next List
Description
A NEW YORK TIMES NOTABLE BOOK OF THE YEAR • NATIONAL BESTSELLER • A timely, passionate, provocative, blisteringly smart interrogation of how we make and experience art in the age of cancel culture, and of the link between genius and monstrosity. Can we love the work of controversial classic and contemporary artists but dislike the artist?

"A lively, personal exploration of how one might think about the art of those who do bad things" —Vanity Fair
 
"Monsters leaves us with Dederer's passionate commitment to the artists whose work most matters to her, and a framework to address these questions about the artists who matter most to us." —The Washington Post

"[Dederer] breaks new ground, making a complex cultural conversation feel brand new." —Ada Calhoun, author of Also a Poet
 
From the author of the New York Times best seller Poser and the acclaimed memoir Love and Trouble, Monsters is "part memoir, part treatise, and all treat" (The New York Times). This unflinching, deeply personal book expands on Claire Dederer's instantly viral Paris Review essay, "What Do We Do with the Art of Monstrous Men?" 
 
Can we love the work of artists such as Hemingway, Sylvia Plath, Miles Davis, Polanski, or Picasso? Should we? Dederer explores the audience's relationship with artists from Michael Jackson to Virginia Woolf, asking: How do we balance our undeniable sense of moral outrage with our equally undeniable love of the work? Is male monstrosity the same as female monstrosity? And if an artist is also a mother, does one identity inexorably, and fatally, interrupt the other? In a more troubling vein, she wonders if an artist needs to be a monster in order to create something great. Does genius deserve special dispensation? Does art have a mandate to depict the darker elements of the psyche? And what happens if the artist stares too long into the abyss? 
 
Highly topical, morally wise, honest to the core, Monsters is certain to incite a conversation about whether and how we can separate artists from their art.
Praise for Monsters: A Fan's Dilemma
NAMED A MOST ANTICIPATED/BEST BOOK OF SPRING BY: The New York Times (twice!), BuzzFeed, Entertainment Weekly, TIME Magazine, Bustle, i-D, Nylon, Kirkus, The Millions, LitHub, Alta, Chicago Review of Books, The Philadelphia Inquirer

"Part memoir, part treatise, and all treat . . . nimble, witty . . . Her exquisitely reasoned vindication of Lolita brought tears to my eyes . . . This is a book that looks boldly down the cliff of roiling waters below and jumps right in, splashes around playfully, isn't afraid to get wet. How refreshing." —The New York Times
"Excellent . . . A work of deep thought and self-scrutiny that honors the impossibility of the book's mission. Dederer comes to accept her love for the art that has shaped her by facing the monstrous, its potential in herself, and the ways it can exist alongside beauty and pathos. Go ahead, she tells us, love what you love. It excuses no one." —The New Yorker
"[A] vital, exhilarating book . . . Although Dederer has done her homework, her style is breezy and confessional . . . Monsters leaves us with Dederer's passionate commitment to the artists whose work most matters to her, and a framework to address these questions about the artists who matter most to us." —The Washington Post
"She asks important questions . . .  [and] skirts categorical answers. Subtle and adroit." —The Atlantic
"As personal as it is unflinching, Dederer's exploration of the confusing boundaries between life and art refuses all the easy answers." —Oprah Daily
"Dazzling . . . If you too love the work of Polanski—or Picasso, Hemingway, Allen, Davis, and so on—sticking with Dederer on her curlicued journey might be the best gift you can give yourself. The final chapter feels its way toward a conclusion that burns clean, though it hurts a little too." —TIME
"Dederer presents a lively, personal exploration of how one might think about the art of those who do bad things . . . Even when the subject matter tips into the uncomfortable and upsetting, it's such a pleasure to stretch out in a big, nuanced conversation about a topic that can be so easily flattened into wrong and right, good and bad; it's a pleasure to be asked to think." —Vanity Fair

"The field of criticism claims objective standards that remove the emotional response of the critic from its evaluation. Dederer begins to take apart these claims to objectivity by teasing out the connections between art and its creator and the connections between the critic and their own subjectivity . . . [Dederer] offers instead an embodied form of critique, one that acknowledges that a critic's emotions, physical responses and life experiences come to bear on the ways they judge the work of others."
—Minneapolis Star Tribune
"An extraordinary and ambitious study of the slippery problems of biography when it comes to consuming art . . . It's a book that's not afraid to say, 'I don't know,' written by an author who isn't afraid of her mind changing as she unpacks everything from Woody Allen's Manhattan to Vladimir Nobokov's Lolita to J.K. Rowling, full stop . . . The book's greatest feat is in its refusal to spit out any absolutes." —Nylon Magazine
"Dederer's approach radiates humanity—or, in other words, subjectivity . . . Throughout the book, Dederer mines the tension between how she thinks she should feel as a feminist, and how she actually feels as an artist; how she wants to feel as a mother, and how she truly experiences motherhood. She isn't afraid to get her hands dirty, approaching these issues with rigorous curiosity instead of intellectual authority—and this willingness to challenge her own contradictory thought process is a welcome antidote to the dominant discourse surrounding the work of problematic figures, the societal mandates around which vacillate with the politics of the time." —Document Journal
"[Dederer] just keeps getting better and smarter. In Monsters, she ties herself in intellectual and emotional knots, poking holes in her own arguments with gusto. In contrast to so many nonfiction books adapted from articles, Monsters doesn't stretch a singular thesis over several hundred pages. Quite the contrary, it's absolutely exhilarating to read the work of someone so willing to crumple up her own argument like a piece of paper, throw it away and start anew. She's constantly challenging her own assumptions, more than willing to find flaws in her own thinking." —The San Francisco Chronicle

"Conversational, clear and bold without being strident . . . Dederer showcases her critical acumen . . . In this age of moral policing, Ms. Dederer's instincts to approach such material with an open mind—and heart—are laudable." —The Wall Street Journal

"[Monsters is] profoundly cathartic. The book feels simultaneously like having the deepest, artiest conversation with the smartest people you know and like having an intense shit-talking session with your closest friends." —Alta
"The book is tangled and fascinating, chasing down arguments and questions that can't always be easily resolved. Dederer's shrewd, vivid descriptions of movies and books suggest just how much they mean to her and how deeply any sacrifices on the altar of contemporary sexual ethics might cut." —Slate
"The rare polemic that's full of greedy love for the good stuff in this world, Monsters is an expansion of Dederer's instant classic Paris Review essay from 2017, 'What Do We Do with the Art of Monstrous Men.' With a larger canvas, she lets both her cast of monsters and our culpability grow, and manages to one-up herself over and over again. Cooly pensive on an overheated subject, Dederer writes powerfully about art's ability to move us, teach us, and entrap us." —Bustle

"A hot and urgent monologue structured around a problem without a solution. Dederer says out loud the things that are flitting through her mind as she prowls around her snarling beasts, prodding and poking, inspecting their fangs . . . immersive and doubtlessly important." —The Times Literary Supplement  (UK)
"Smart, funny, and surprisingly forgiving . . . You can't read it without thinking of your own literary loves and hates—and wondering how to know the difference." —4Columns
"The masterstroke of Dederer's book is that she doesn't seek to duck her ambivalence. She doesn't try to magic it away by finding an expert or thinking harder, although her book has crystalline intellectual force . . . Denounce Allen or Polanski all she wants, she realizes, their work still calls to her, and from that stubborn fact she has fashioned a book of depth and candor about what it is to be heartbroken by an artist whose work we also happen to love . . . So on point is Monsters: A Fan's Dilemma about the historical moment in which we currently find ourselves, you want to carry it around with you and whip it out at every bar or dinner party" —Avenue Magazine
"In a world that wants you to think less—that wants, in fact, to do your thinking for you, Monsters is that rare work, beyond a book, that reminds you of your sentience. It's wise and bold and full of the kind of gravitas that might even rub off." — Lisa Taddeo, author of Three Women
"An exhilarating, shape-shifting exploration of the perilous boundaries between art and life. This timely book inhabits both the marvelous and the monstrous with generosity and wit." — Jenny Offill, author of Dept. of Speculation

"A blisteringly erudite and entertaining read. Dederer holds the moral ambiguity of her subject matter, landing her arguments with precision and flair. It's a book that deserves to be widely read and will provoke many conversations." — Nathan Filer, author of The Shock of the Fall
"Monsters is an incredible book, the best work of criticism I have read in a very long time. It's thrillingly sharp, appropriately doubtful, and more fun than you would believe, given the pressing seriousness of the subject matter. Claire Dederer's mind is a wonder, her erudition too; I now want her to apply them to everything I'm interested in so I can think about them differently." —Nick Hornby, author of High Fidelity
"Slyly funny, emotionally honest, and full of raw passion, Claire Dederer's important book about what to do when artists you love do things you hate breaks new ground, making a complex cultural conversation feel brand new. Monsters elegantly takes on far more than 'cancel culture'—it offers new insights into love, ambition, and what it means to be an artist, a citizen, and a human being." — Ada Calhoun, author of Why We Can't Sleep: Women's New Midlife Crisis

"A valuable meditation on some of the era's most urgent cultural questions . . . Emerging from Dederer's reflections is the plain truth that every personal response to art is inseparable not only from the artist's past but also the history of each member of its audience." —Library Journal
"[An] insightful exploration . . . Dederer's case studies include Roman Polanski, Woody Allen, and Miles Davis, whose work she considers brilliant and important. What's a fan to do? Dederer offers nuanced answers, challenging the assumption that boycotting is always the best response." —Booklist
"Bringing erudition, emotion, and a down-to-earth style to this pressing problem, Dederer presents her finest work to date . . . Dederer's analysis includes both usual and unusual suspects, often with remarkably original angles." —Kirkus Reviews [starred review]

"What's a fan to do when they love the art, but hate the artist? asks book critic and essayist Dederer (Love and Trouble) in this nuanced and incisive inquiry . . . There are no easy answers, but Dederer's candid appraisal of her own relationship with troubling artists and the lucidity with which she explores what it means to love their work open fresh ways of thinking about problematic artists. Contemplative and willing to tackle the hard questions head on, this pulls no punches." —Publishers Weekly [starred review]
"Despite the heavy subject matter, Monsters is neither rant nor sermon. Dederer is not only an incisive researcher and writer, she's also conversational, approachable and funny. The book seamlessly incorporates bits of memoir—Dederer's life in the Pacific Northwest, her experiences as a critic and a woman, her failures—that have informed her critical thinking. Yes, Monsters is a worthy addition to contemporary literary criticism, but more than that, it's a very enjoyable book about a thorny, elusive subject." —BookPage [starred review]