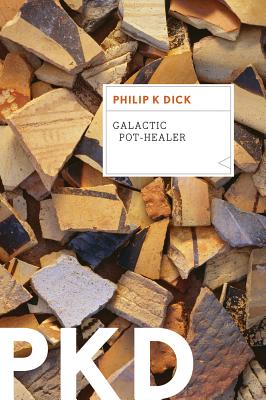 Galactic Pot-Healer
Publication Date:
April 16th, 2013
Publisher:
Mariner Books Classics
Usually Ships to Store in 4 to 7 Days
Description
A powerful and enigmatic alien recruits humans and aliens to help it restore a sunken cathedral in this touching and hilarious novel.
Sometimes even gods need help. In Galactic Pot-Healer that god is an alien creature known as The Glimmung, which looks alternately like a flaming wheel, a teenage girl, and a swirling mass of ocean life. In order to raise a sunken city, he summons beings from across the galaxy to Plowman's Planet. Joe Fernwright is one of those summoned, needed for his skills at pot-healing—repairing broken ceramics. But from the moment Joe arrives on Plowman's Planet, things start to go awry. Told as only Philip K. Dick can, Galactic Pot-Healer is a wildly funny tale of aliens, gods, and ceramics.
About the Author
Over a writing career that spanned three decades, PHILIP K. DICK (1928–1982) published 36 science fiction novels and 121 short stories in which he explored the essence of what makes man human and the dangers of centralized power. Toward the end of his life, his work turned to deeply personal, metaphysical questions concerning the nature of God. Eleven novels and short stories have been adapted to film, notably Blade Runner (based on Do Androids Dream of Electric Sheep?), Total Recall, Minority Report, and A Scanner Darkly, as well as television's The Man in the High Castle. The recipient of critical acclaim and numerous awards throughout his career, including the Hugo and John W. Campbell awards, Dick was inducted into the Science Fiction Hall of Fame in 2005, and between 2007 and 2009, the Library of America published a selection of his novels in three volumes. His work has been translated into more than twenty-five languages.