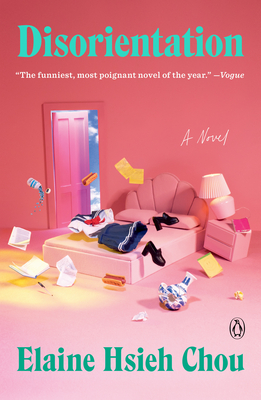 Disorientation: A Novel
Publication Date:
March 21st, 2023
Rozzie Bound Co-op
1 on hand, as of Dec 7 6:12pm
(Fiction )
On Our Shelves Now
Description
NYPL Young Lions Finalist * Shortlisted for the VCU Cabell First Novelist Award * A New York Times Editors' Choice Book * A Best Book of 2022 by NPR, Vogue, Jezebel and Book Riot * A Malala Book Club Pick * A Phenomenal Book Club Pick
 
A Taiwanese American woman's coming-of-consciousness ignites eye-opening revelations and chaos on a college campus in this outrageously hilarious and startingly tender debut novel
Twenty-nine-year-old PhD student Ingrid Yang is desperate to finish her dissertation on the late canonical poet Xiao-Wen Chou and never read about "Chinese-y" things again. But after years of grueling research, all she has to show for her efforts are a junk food addiction and stomach pain. When she accidentally stumbles upon a curious note in the Chou archives one afternoon, it looks like her ticket out of academic hell.
But Ingrid's in much deeper than she thinks. Her clumsy exploits to unravel the note's message lead to an explosive discovery, upending her entire life and the lives of those around her. What follows is a roller coaster of mishaps and misadventures, from book burnings and OTC drug hallucinations, to hot-button protests and Yellow Peril 2.0 propaganda. As the events Ingrid instigated keep spiraling, she'll have to confront her sticky relationship to white men and white institutions—and, most of all, herself.
A blistering send-up of privilege and power, and a profound reckoning of individual complicity and unspoken rage, in Disorientation Elaine Hsieh Chou asks who gets to tell our stories—and how the story changes when we finally tell it ourselves.
Praise for Disorientation: A Novel
"[F]unny and insightful, with plenty to say about art, identity, Orientalism and the politics of academia." —New York Times Book Review
"The hyperactive satire is so consistently funny it almost makes the reader forget about the serious societal issues that undergird the humor . . . Disorientation does what great comedies and satires are supposed to do: make you laugh while forcing you to ponder the uncomfortable implications of every punchline." —The Washington Post
"[A] literary satire that takes a hilarious and refreshingly honest look at the power dynamics of college campuses . . . This one will have you rolling over with laughter and texting your college group chat." —NPR, Books We Love 2022
"A rollicking, whip-smart ride through the hallowed halls of academia." —Harper's Bazaar
"The pleasures of Elaine Hsieh Chou's campus satire are in high supply . . . In the tradition of Donna Tartt's The Secret History and Elif Batuman's The Idiot, Chou has written a delightful new chapter of dark academia." —Vogue
"As the best comedy does, Disorientation manages to highlight uncomfortable truths, capture gray areas and hard lines, and resist sliding into easy binaries of heroes and villains." —Vanity Fair, Books We Couldn't Put Down This Month
"[H]ilarious and harrowing… Elaine Hsieh Chou's debut novel Disorientation is a rollicking satire of graduate-school life, Asian-American overachievers, and the peculiar injustices of the university . . . Disorientation is a page-turner studded with razor-sharp one-liners . . . Its twists and turns propel the plot while skewering topics from anti–affirmative action sentiment among Asian Americans to the jargon-heavy stylings of academic prose to the diabolically chameleonic quality of the American right. Along the way, Ingrid's archival mystery leads her out of her dissertation funk and into a tangle of betrayal and deception that forces her to reevaluate her own self-deceiving beliefs about what it means to be an Asian scholar and an Asian woman in America." —New York Review of Books
"This book has so many stifle-a-strangled-laugh lines you might want to refrain from reading it in a library or a train's quiet car. Chou's novel is a send-up of the polite, cardigan-draped white supremacy of liberal arts colleges . . . Between hiring a private investigator, staging a break in, flooding a gender neutral bathroom, and smoking weed with a professor, she uncovers a shocking truth—an act of racism in the academic world that had gone unnoticed for decades . . . In an entertaining takedown, Chou explores who the university really belongs to." —Glamour

"This funny, fearless debut novel about a student's dissertation on a fictional poet dives into the maelstrom of topical arguments about race and comes up fighting . . . [Disorientation] gets candid about the concept of model minorities, the stickiness of inter-racial dating and the way misogyny violently affects Asian women." —The Observer

"[Disorientation] is captivating, irresistible, and intensely readable, and what we ultimately come to literature to find . . . The book expands in scope with each passing page, integrating newer and more experimental forms and swallowing larger subject matter. We begin at the campus novel, at critiques of university hierarchy, and end up considering all of American politics and the evolution of racism, fetishism, and social stratification . . . [W]hat Disorientation shows us is that there is power in the page-turner, that literary merit and a unique, propelling story are not mutually exclusive." —Chicago Review of Books
"Fans of blistering American satires like Paul Beatty's The Sellout and Charles Yu's Interior Chinatown won't want to miss Elaine Hsieh Chou's electrifying debut Disorientation, which turns the campus novel on its head with its portrait of a Taiwanese American PhD student lost in her own research. Taking on fraught topics like appropriation and the 'model minority' in academia, it goes big in the best way, announcing an exciting new voice." —Chicago Review of Books, 12 Must-Read Books of March

"[A] page-turning, thrilling satire of American academia, tangled in literary mystery . . . Ingrid blossoms in a complex coming-to-consciousness as she discovers racial power dynamics and incommensurable concepts of identity. Chou skewers Sinophobes and Sinophiles alike with wit as sharp as a samurai sword mounted on a white guy's bedroom wall. The writing is almost intolerably funny: intolerable only because the wellspring of Disorientation's satire is our racist reality. As Ocean Vuong writes: 'I know. It's not fair that the word laughter is trapped inside slaughter.' Elaine Hsieh Chou is out for blood." —The Saturday Paper

"Both deeply moving and rivetingly funny, Disorientation is a master class in satire with surprises around every corner. It is a roaring meditation on the ivory tower and Asian American identity that does not mince words about anyone in its illustrious cast of characters. Chou's first foray into fiction left my mind sharp, my heart full, and my belly weak from laughter." —Foreign Policy

"If there is one book you read this year, let it be Disorientation . . . [L]ucid and hilarious and hopeful and grim; in the same absurd style of Paul Beatty, Elaine Hsieh Chou's intellectually sexy book hits all the hot topic arguments of Asian American discourse and higher education identity politics. She lays out the ideological stakes—the personhood of Asian women as people, not objects—and the threat posed by pervasive and internalized racism." —The Michigan Daily

"Addressing weighty issues with humour is quite a difficult task for many writers—but Elaine Hsieh Chou has accomplished that and more in her explosive debut novel. Disorientation is hilarious and entertaining, while also examining racism and politics in academia, societal changes, and the importance of telling your own story. It's not every day that we get a laugh out loud satire, sharp cultural commentary, literary fiction, mystery, and a relatable heroine in one book." —Malala Literati Book Club, April 2022 Selection

"Chou's distinct, self-effacing voice makes for a fun ride into a highly charged realm, with a plot that naturally escalates as she looks into various claims about truth in art, who appropriates whom, the limits of allyship, and how we gaslight ourselves in order to accept everyday racial horrors. Chou reflects a world that's complex and entertaining, one that will leave readers with a renewed perspective." —Booklist, Starred Review

"Calling [Disorientation] merely satire about a racial awakening isn't enough . . . I was not the same person at the end of reading this book that I was before reading it." —Book Riot, The Best Books of 2022 So Far

"[S]earing satire . . . Chou details her protagonist's struggles with dry humor and wit." —Time

"Chou's debut novel is a provocative, satirical take on academia, full of surprising twists." —Time, Best Books of March 2022
"Disorientation is a deeply smart, satirical novel that takes a critical look at racism in academia." — Buzzfeed

"[A] gleeful satire about student activism and academic bluster." —Financial Times, The Best Debut Fiction
"A fresh, hilarious and thoughtful satire that'll make you think about cultural identity in a whole new way." —Good Housekeeping, The 15 Best and Most-Anticipated Books of 2022
"A deft twist on the campus satire." —Vulture, Notable New Releases

"Chou's debut novel is a searing literary satire of campus politics." —Entertainment Weekly, The Best New Books to Read in March

"Disorientation satirizes academia, PC culture and every other topic it touches, bringing into question the very etymology of its title . . . Though you would never know it from how fun this wild ride is, Disorientation is a seminar bursting with lessons on race, gender and culture, complete with a bibliographical Notes section and everything. Chou clearly did her research." —Associated Press
"Disorientation has been called a campus satire, but it's also so much more. In it, I found a lifetime's worth of self-interrogation and growth. Lessons on how to survive and fight when your entire life is consistently and flippantly diminished by strangers . . . Elaine Hsieh Chou will be one of the foremost voices of our time." —Singapore Unbound
"Here is a writer whose rage and acerbic wit is both a joy and a relief. Sometimes surreal, always sharp, and wonderfully capacious, Disorientation is the whodunnit we need right now." —The Adroit Journal
"Disorientation is an inventive campus novel that satirizes academia in an over-the-top, compulsively readable mystery . . .  [N]ot only an outrageously enjoyable academic mystery, but also a moving portrayal of self-discovery." —Ploughshares
"Gleefully dark and incisive . . . Chou's examination of the catch-22s faced by Asian Americans, particularly women, straddles the line between satiric and searing . . . Disorientation is the best combination of entertaining and thought-provoking, and Chou is an exciting new voice in novel-length fiction." —Shelf Awareness
"An epic novel of satire, an intelligent romp with sparkling tender moments." —SNACK Magazine

"[A] deeply smart (and funny) satire on the pressures, power imbalances, and racism within the academic world." —theSkimm
"Disorientation takes us on a whirlwind romp that combines academic satire with a who-dunnit mystery thriller." —Electric Literature
 
"No one is left spared from critique in Chou's satire, much to the reader's delight. Anyone who has experienced the pretension of academia, thought extensively about racial dating preferences, or reveled in takedowns of white institutions will find much to cackle about while reading these pages. But Disorientation shines most in its ability to give Asian American readers an entry point to examine and forgive their own potential hypocrisies." —The Cosmos Book Club
"Chou effectively skewers a world that takes itself all too seriously . . . This will charm a wide set of readers, not just those pursuing PhDs." —Publishers Weekly
 
"Disorientation is a multivalent pleasure, a deeply original debut novel that reinvents the campus novel satire as an Asian American literary studies whodunnit, in which the murder victim might be your idea of yourself—no matter how you identify. I often held my breath until I laughed and I wouldn't dare compare it or Chou to anyone writing now. Wickedly funny and knowing, Chou's dagger wit is sure-eyed, intent on what feels like a decolonization of her protagonist, if not the reader, that just might set her free." —Alexander Chee, author of How to Write an Autobiographical Novel
"Disorientation is an irreverent campus satire that skewers white sclerotic academia, creepy Asian fetishists and twee boba liberalism, but lastly and most importantly, it's a satire, inspired by recent controversies, about an orientalist tradition and its manifestations today. Helmed by a memorable screwball protagonist, the novel is both a joyous and sharply-drawn caper." —Cathy Park Hong, author of Minor Feelings
"Chou's pen is a scalpel. Disorientation addresses the private absurdities the soul must endure to get free, from tokenism, the quiet exploitation of well-meaning institutions, and the bondage that is self-imposed. Chou does it with wit and verve, and no one is spared." —Raven Leilani, author of Luster
"Disorientation is the funniest novel I've read all year . . . This uproarious tale of a young woman's quest to uncover the truth about the world's most famous Chinese American poet is packed full of sly truths about race, love, and life in general—all of which you're going to miss, because you'll be laughing so hard." —Aravind Adiga, author of The White Tiger