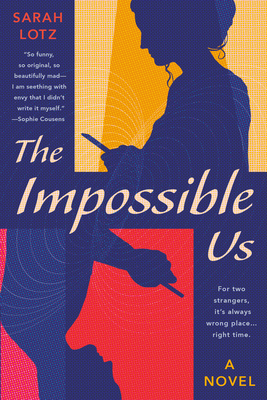 The Impossible Us
Publication Date:
March 22nd, 2022
Rozzie Bound Co-op
1 on hand, as of Dec 7 6:12pm
(Fiction )
On Our Shelves Now
Description
One of The New York Times best Fantasy novels of 2022!
"An utterly delightful epistolary romance....The Impossible Us is that rare 'I laughed, I cried' book."—The New York Times
Nick: Failed writer. Failed husband. Dog owner.
Bee: Serial dater. Dress maker. Pringles enthusiast.
One day, their paths cross over a misdirected email. The connection is instant, electric. They feel like they've known each other all their lives. So they decide to meet.
While Nick buys a new suit, and gets his courage up, Bee steps away from her desk, and sets off to meet him at a London train station. With their happily-ever-after nearly in hand, what happens next is incredible and threatens to separate them forever.
As their once in a lifetime connection is tested, Nick and Bee will discover whether being together is an impossible chance worth taking.


Praise for The Impossible Us
"So funny, so original, so beautifully mad--I am seething with envy that I didn't write it myself. I adore rom coms like this, which push genre and achieve the impossible - leaving the reader not quite knowing how it's all going to end!"--Sophie Cousens, New York Times bestselling author of This Time Next Year
"Fun, heartbreaking, and eminently readable all at once. Bee and Nick's emails are witty and romantic, while their supporting characters are entertaining in both worlds. Lotz manages to combine romance and science fiction into a book that will produce laughter and tears...A thought-provoking and clever genre-bending blend of romance and science fiction."--Kirkus (starred review)
"Lotz perfectly balances the heavy with the light, and creates a feeling of genuine connection between her protagonists. The eccentric side characters and strong humor meshes nicely with the earnest, tender romance. The result is simply delightful."--Publishers Weekly (starred review)
"Have finished reading The Impossible Us by Sarah Lotz and it is indeed amazing…Ingenious and beautifully executed."--Jill Mansell, New York Times bestselling author of And Now You're Back
"Clever, unexpected, and delightfully twisted—in other words, the perfect love story. The Impossible Us is built on brilliant concept that pushes at the boundaries of convention—and the laws of physics. I loved it in this dimension, and if there are versions of me in alternate dimensions, I'm sure they loved it, too."--Margarita Montimore, USA Today bestselling author of Oona Out of Order
"An absolutely addictive read, perfect for fans of Katie Khan. I was swept away by Bee and Nick's impossible love story...and I was utterly hooked from the start. A story that is funny, sweet and full of twists that made it genuinely unputdownable."--Jennifer Saint, author of Ariadne
"It blew my mind. It deserves to be one of those cultural touchstones that people bond over for years to come."--Laura Pearson, author of I Wanted You to Know
"I loved everything about it. The zingy dialogue, the romance, the suspense...It's a love story of the greatest kind."--Gillian McAllister, author of That Night
 
"It is amazing, never ever ever in my life have i wished I'd written a book so much. I am bawling.  Bawling. An actual masterpiece. There will not be a book I love more in 2022."--Anstey Harris, author of The Museum of Forgotten Memories
"It knocked my socks off! Such a ridiculously clever, hilarious read with characters so real, I'll never forget them. One of the best, most original love stories I've ever read."--Jessica Ryn, author of The Extraordinary Hope of Dawn Brightside
 
"My mind is officially blown . . . What a book! The Impossible Us by Sarah Lotz is incredible - breathtakingly original, clever and unputdownable."--Sarah J. Harris, author of The Color of Bee Larkham's Murder
"A ripping clever story with so much damn heart. I loved it."--Lauren Beukes, international bestselling author of The Shining Girls