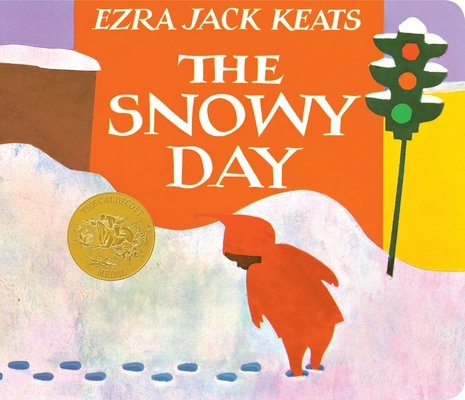 The Snowy Day
Publication Date:
October 11th, 2012
Publisher:
Viking Books for Young Readers
Usually Ships to Store in 4 to 7 Days
Description
The magic and wonder of winter's first snowfall is perfectly captured in Ezra Jack Keat's Caldecott Medal-winning picture book. Young readers can enjoy this celebrated classic as a full-sized board book, perfect for read-alouds of all kinds and a great gift for the holiday season.
In 1962, a little boy named Peter put on his snowsuit and stepped out of his house and into the hearts of millions of readers. Universal in its appeal, this story beautifully depicts a child's wonder at a new world, and the hope of capturing and keeping that wonder forever. This big, sturdy edition will bring even more young readers to the story of Peter and his adventures in the snow.
Ezra Jack Keats was also the creator of such classics as Goggles, A Letter to Amy, Pet Show!, Peter's Chair, and A Whistle for Willie.
 
(This book is also available in Spanish, as Un dia de nieve.)
 
Praise for The Snowy Day:
"Keats made Peter's world so inviting that it beckons us. Perhaps the busyness of daily life in the 21st century makes us appreciate Peter even more—a kid who has the luxury of a whole day to just be outside, surrounded by snow that's begging to be enjoyed." —The Atlantic
"Ezra Jack Keats's classic The Snowy Day, winner of the 1963 Caldecott Medal, pays homage to the wonder and pure pleasure a child experiences when the world is blanketed in snow."—Publisher's Weekly
About the Author
Ezra Jack Keats (1916–1983) is the Caldecott Medal winning author of The Snowy Day, which broke ground in 1962 as one of the first picture books for young children to portray a realistic, multi-cultural urban setting. Since its initial publication, The Snowy Day has come to be regarded as both a children's classic and one of the most important picture books ever written/illustrated. Ezra Jack Keats' legacy lives on in the popularity of his most famous character, Peter—the star of The Snowy Day, Whistle for Willie, Peter's Chair, A Letter to Amy, Goggles, and others. Visit the Ezra Jack Keats Foundation online at www.ezra-jack-keats.org
Praise for The Snowy Day
Praise for The Snowy Day:

"Keats made Peter's world so inviting that it beckons us. Perhaps the busyness of daily life in the 21st century makes us appreciate Peter even more—a kid who has the luxury of a whole day to just be outside, surrounded by snow that's begging to be enjoyed." —The Atlantic
"Ezra Jack Keats's classic The Snowy Day, winner of the 1963 Caldecott Medal, pays homage to the wonder and pure pleasure a child experiences when the world is blanketed in snow."—Publisher's Weekly