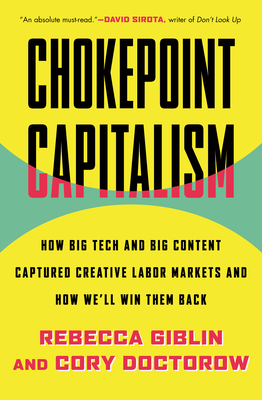 Chokepoint Capitalism: How Big Tech and Big Content Captured Creative Labor Markets and How We'll Win Them Back
Publication Date:
September 27th, 2022
Usually Ships to Store in 4 to 7 Days
Staff Reviews
Everyone who cares about people who create things should consider reading this. It's well-written and well sourced, connects many dots, and includes some interesting trivia, including how much the Beatles were paid for their first record. Part one illustrates the issues, part two shows what we can do about it.
Here's a quote:
"The idea is to get at the root of the problem, eliminating excessive power so everyone keeps some money for lunch."
– Chokepoint Capitalism, page 151
If you're a musician, the part two section on Resonate might do just that…
— Kim Patch
Description
A call to action for the creative class and labor movement to rally against the power of Big Tech and Big Media
Corporate concentration has breached the stratosphere, as have corporate profits. An ever-expanding constellation of industries are now monopolies (where sellers have excessive power over buyers) or monopsonies (where buyers hold the whip hand over sellers)—or both.
In Chokepoint Capitalism, scholar Rebecca Giblin and writer and activist Cory Doctorow argue we're in a new era of "chokepoint capitalism," with exploitative businesses creating insurmountable barriers to competition that enable them to capture value that should rightfully go to others. All workers are weakened by this, but the problem is especially well-illustrated by the plight of creative workers. From Amazon's use of digital rights management and bundling to radically change the economics of book publishing, to Google and Facebook's siphoning away of ad revenues from news media, and the Big Three record labels' use of inordinately long contracts to up their own margins at the cost of artists, chokepoints are everywhere.
By analyzing book publishing and news, live music and music streaming, screenwriting, radio and more, Giblin and Doctorow deftly show how powerful corporations construct "anti-competitive flywheels" designed to lock in users and suppliers, make their markets hostile to new entrants, and then force workers and suppliers to accept unfairly low prices.
In the book's second half, Giblin and Doctorow then explain how to batter through those chokepoints, with tools ranging from transparency rights to collective action and ownership, radical interoperability, contract terminations, job guarantees, and minimum wages for creative work.
Chokepoint Capitalism is a call to workers of all sectors to unite to help smash these chokepoints and take back the power and profit that's being heisted away—before it's too late.
Praise for Chokepoint Capitalism: How Big Tech and Big Content Captured Creative Labor Markets and How We'll Win Them Back
"[Giblin and Doctorow] deliver a lucid and damning exposé of how big business captured the culture markets."
—Publishers Weekly, Starred Review
"Giblin and Doctorow make a convincing case that taking on Big Tech and Big Content—seemingly a lonely and demoralizing endeavor—is, in fact, an opportunity for community."
—The Atlantic
"Provocative . . . What makes this book so refreshing is that it never lets its reader off the hook. The authors remind us, repeatedly, that our ignorance is being weaponised against us. If we don't understand how big business established its chokehold over us, how will we ever be able to wriggle free of its grip?"
—The Guardian
"Nerdy, sharp, radical and readable."
—The Financial Times

"A searing and comprehensive take on the oligopolies that control creative markets, from publishing to music distribution to film distribution."
—Alta
"Chokepoint Capitalism is the book we need now. Comprehensive and accessible, stirring and enlightening, it is a roadmap for taking immediate action against the corporate chokepoints that are crushing our creative workers and, increasingly, the rest of the middle class as well."
—The Progressive
"Chokepoint Capitalism is a wake-up call. The emphasis it places on the need for a collective response to chokepoint capitalism gives the book its radical edge."
—The Conversation
"Totally readable."
—The Spinoff
"This book is an absolute must-read for anyone who senses that the predominant economic mythology is a lie . . . and who is ready to finally start fixing the problem."
—David Sirota, writer of Don't Look Up
"Chokepoint Capitalism tells us how the vampires crashed the party and provides protective garlic."
—Margaret Atwood, author of The Handmaid's Tale
"Searing, essential, and incredibly readable."
—Adam Conover, comedian and host of The G-Word
"An urgent, profound, and approachable take on what it's going to take to save our culture. If you care about books, movies, or music, read this book right now. And share a copy with a friend."
—Seth Godin, author of The Practice
"Chokepoint Capitalism is a Why We Fight for a long-overdue uprising."
—Kaiser Kuo, host and cofounder of The Sinica Podcast
"Giblin and Doctorow persuasively argue that copyright can't unrig a rigged market—for that, you need worker power, antitrust, and solidarity."
—Jimmy Wales, cofounder of Wikipedia
"I loved this book. . . . It helps us all see the locks and chains and the ways to chisel through them."
—Zephyr Teachout, author of Break 'Em Up
"Brilliant and wide-ranging."
—Lawrence Lessig, Roy L. Furman Professor of Law and Leadership, Harvard Law School
"Every creator will find inspiration here."
—Anil Dash, CEO of Glitch
"Capitalism doesn't work without competition. Giblin and Doctorow impressively show the extent to which that's been lost throughout the creative industries, and how this pattern threatens every other worker."
—Craig Newmark, founder of Craigslist
"A tome for the times . . . The revolution will not be spotified!"
—Christopher Coe, artist and cofounder of Awesome Soundwave
"Chokepoint Capitalism couples its legal-economic critique with provocative, sometimes utopian, prescriptions for fairly remunerating authors and performers."
—Jane C. Ginsburg, Morton L. Janklow Professor of Literary and Artistic Property Law, Columbia University School of Law
"If you have ever wondered why the web feels increasingly stale, Chokepoint Capitalism outlines in great detail how it is being denied fresh air."
—Mat Dryhurst, artist and researcher, NYU's Clive Davis Institute of Recorded Music
"Chokepoint Capitalism is more than a clarion call for a new, necessary form of trustbusting. It's a grand unified theory of a decades-long, corporate-led hollowing out of creative culture."
—Andy Greenberg, writer for WIRED and author of Sandworm and Tracers in the Dark
"Not just a fascinating tour of the hidden mechanics of the platform era, from Spotify playlists to Prince's name change, but a compelling agenda to break Big Tech's hold."
—Eli Pariser, author of The Filter Bubble and cofounder of Avaaz
"A masterwork . . . It's a necessary read for any artist in the entertainment industry."
—David A. Goodman, writer, executive producer of The Orville, and former president of the WGA West
"An infuriating yet inspiring call to collective action."
—Douglas Rushkoff, author of Throwing Rocks at the Google Bus and Survival of the Richest