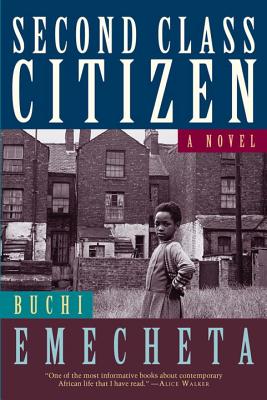 Second Class Citizen
Publication Date:
February 17th, 1983
Publisher:
George Braziller Inc.
This item is backordered and may take several weeks to ship
Description
The classic tale of a Nigerian woman who overcomes strict tribal domination only to encounter the hardships of immigration. Available again.
In the late 1960's, Adah, a spirited and resourceful woman manages to move her family to London. Seeking an independent life for herself and her children she encounters racism and hard truths about being a new citizen. "Second Class Citizen pales a lot of academic feminist writing into insignificance." –The Guardian
"Emecheta's prose has a shimmer of originality, of English being reinvented....Issues of survival lie inherent in her material and give her tales weight." --John Updike 
About the Author
Born of Ibo parents in Nigeria, Buchi Emecheta is widely known for her multilayered stories of black women struggling to maintain their identity and construct viable lives for themselves and their families. She writes, according to The New York Times, with "subtlety, power, and abundant compassion." Her numerous novels include The Slave Girl, The Family, Bride Price, and The Joys of Motherhood.
Praise for Second Class Citizen
[Adah] is a heroine who excites sympathy and admiration in this completely engrossing melting-pot novel.
— The NewYork Times