Discounted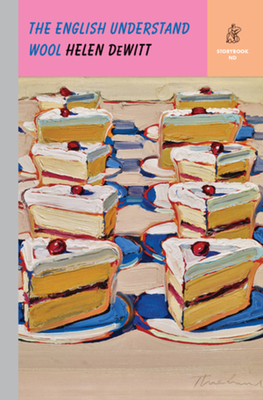 The English Understand Wool (Storybook ND Series)
Previous price:

$18.95
Current price:

$17.95
Publication Date:
September 27th, 2022
Publisher:
New Directions
Usually Ships to Store in 4 to 7 Days
Description
A modern amorality play about a 17-year-old girl, the wilder shores of connoisseurship, and the power of false friends
Maman was exigeante—there is no English word–and I had the benefit of her training. Others may not be so fortunate. If some other young girl, with two million dollars at stake, finds this of use I shall count myself justified.
Raised in Marrakech by a French mother and English father, a 17-year-old girl has learned above all to avoid mauvais ton ("bad taste" loses something in the translation). One should not ask servants to wait on one during Ramadan: they must have paid leave while one spends the holy month abroad. One must play the piano; if staying at Claridge's, one must regrettably install a Clavinova in the suite, so that the necessary hours of practice will not be inflicted on fellow guests. One should cultivate weavers of tweed in the Outer Hebrides but have the cloth made up in London; one should buy linen in Ireland but have it made up by a Thai seamstress in Paris (whose genius has been supported by purchase of suitable premises). All this and much more she has learned, governed by a parent of ferociously lofty standards. But at 17, during the annual Ramadan travels, she finds all assumptions overturned. Will she be able to fend for herself? Will the dictates of good taste suffice when she must deal, singlehanded, with the sharks of New York?
Praise for The English Understand Wool (Storybook ND Series)
Brilliant and inimitable Helen DeWitt: patron saint of anyone in the world who has to deal with the crap of those in power who do a terrible job with their power, and who make those who are under their power utterly miserable.
— Sheila Heti - Electric Literature
DeWitt has plenty of stories to tell about mercenary literary agents, feckless editors and the systematically thwarted ambitions of artists. Her brilliant new novella, The English Understand Wool, is such a saga. Told, like her previous novels, from the point of view of an obsessive personality, this clever little book revolves around the education of seventeen-year-old Marguerite by her French mother on the rules of bon ton. DeWitt has a knack for delivering acutely eccentric ideas with such intense frequency and in a no-nonsense tone that readers become almost persuaded of their unarguable logic.
— Spectator World
This crisp novella, the latest from Helen DeWitt, is told in a series of hostile letters between the girl and her crass American editor in New York. 
— Vulture
In Helen DeWitt's new novelette, The English Understand Wool...depictions of provincial life, aesthetic value, in the hands of those who cannot recognize it, finds itself at the mercy of market logic.
— Jared Marcel Pollen - Gawker
Prose as sharp as Maman's tailored clothes.
— Connor Harrison - Literary Review (UK)
The English Understand Wool is Helen DeWitt's best and funniest book so far - quite a feat given the standards set by the rest of her work. It is a heist story, an ethica; treatise, a send-up of media culture, a defence of education and an indelibly memorable character portrait. Its pages are rife with wicked pleasures. It incites and rewards re-reading.
— Heather Cass White - The Times Literary Supplement
DeWitt's mastery of adverbs is deserving of worship.
— Molly Young - The New York Times
Weighing in at just 64 pages, Helen DeWitt's The English Understand Wool is a delight.
— Mia Levitin - The Irish Times
I didn't want the book to end.
— Kaitlin Phillips - Artforum
That a ghost writer should commute her story – that of a 'missing child' raised outside the culture she was born into by imposters – to the kind of neutered copy the masses expect is quite out of the question. I am who I tell you I am, DeWitt seems to be saying, and I will speak for myself in the language of my choosing.
— J.W. McCormack - The New Left Review
DeWitt is the sort of writer to whom engineering – the right mark in the right place, getting the message through – matters as much as exposition.
— David Trotter - London Review of Books
A midsummer's night dream, a turbulent and amoral comedy, disrupting the sleep with its dodges and masks—altogether a delight.
— Jon Domini - The Brooklyn Rail
Readers of Helen DeWitt's limited previous output—two novels and a collection of stories in twenty-two years—will fall greedily on anything new. Her novella The English Understand Wool exceeds expectations.
— John Self - The Critic
A staggeringly intelligent examination into the nature of truth, love, respect, beauty and trust… This is that rare thing, or merle blanc, as maman might say: a perfect book. I've read it four times, which you can do between breakfast and lunch.
— Nicola Shulman - The Times Literary Supplement