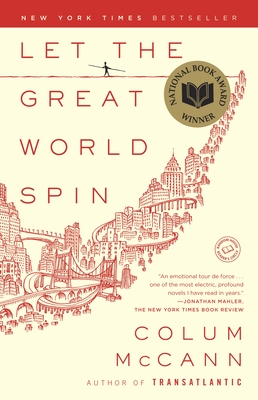 Let the Great World Spin: A Novel
Publication Date:
November 30th, 2009
Publisher:
Random House Trade Paperbacks
Usually Ships to Store in 4 to 7 Days
The absolutely best book club discussion book is last year's National Book Award Winner, Let the Great World Spin. Eleven characters are each fleetingly touched by the tightrope walker who walked between the twin towers in August 1974. McCann perfectly captures each voice and creates, not only memorable characterers and their stories, but also writes a powerful novel about love, loss and redemption.
Summer '10 Reading Group List
Description
NATIONAL BOOK AWARD WINNER • Colum McCann's beloved novel inspired by Philippe Petit's daring high-wire stunt, which is also depicted in the film The Walk starring Joseph Gordon-Levitt

In the dawning light of a late-summer morning, the people of lower Manhattan stand hushed, staring up in disbelief at the Twin Towers. It is August 1974, and a mysterious tightrope walker is running, dancing, leaping between the towers, suspended a quarter mile above the ground. In the streets below, a slew of ordinary lives become extraordinary in bestselling novelist Colum McCann's stunningly intricate portrait of a city and its people.

Let the Great World Spin is the critically acclaimed author's most ambitious novel yet: a dazzlingly rich vision of the pain, loveliness, mystery, and promise of New York City in the 1970s.
Corrigan, a radical young Irish monk, struggles with his own demons as he lives among the prostitutes in the middle of the burning Bronx. A group of mothers gather in a Park Avenue apartment to mourn their sons who died in Vietnam, only to discover just how much divides them even in grief. A young artist finds herself at the scene of a hit-and-run that sends her own life careening sideways. Tillie, a thirty-eight-year-old grandmother, turns tricks alongside her teenage daughter, determined not only to take care of her family but to prove her own worth. Elegantly weaving together these and other seemingly disparate lives, McCann's powerful allegory comes alive in the unforgettable voices of the city's people, unexpectedly drawn together by hope, beauty, and the "artistic crime of the century."
A sweeping and radical social novel, Let the Great World Spin captures the spirit of America in a time of transition, extraordinary promise, and, in hindsight, heartbreaking innocence. Hailed as a "fiercely original talent" (San Francisco Chronicle), award-winning novelist McCann has delivered a triumphantly American masterpiece that awakens in us a sense of what the novel can achieve, confront, and even heal.
Praise for Let the Great World Spin

"This is a gorgeous book, multilayered and deeply felt, and it's a damned lot of fun to read, too. Leave it to an Irishman to write one of the greatest-ever novels about New York. There's so much passion and humor and pure lifeforce on every page of Let the Great World Spin that you'll find yourself giddy, dizzy, overwhelmed."—Dave Eggers

"Stunning . . . [an] elegiac glimpse of hope . . . It's a novel rooted firmly in time and place. It vividly captures New York at its worst and best. But it transcends all that. In the end, it's a novel about families—the ones we're born into and the ones we make for ourselves."—USA Today
"The first great 9/11 novel . . . We are all dancing on the wire of history, and even on solid ground we breathe the thinnest of air."—Esquire
"Mesmerizing . . . a Joycean look at the lives of New Yorkers changed by a single act on a single day . . . Colum McCann's marvelously rich novel . . . weaves a portrait of a city and a moment, dizzyingly satisfying to read and difficult to put down."—The Seattle Times
"Vibrantly whole . . . With a series of spare, gorgeously wrought vignettes, Colum McCann brings 1970s New York to life. . . . And as always, McCann's heart-stoppingly simple descriptions wow."—Entertainment Weekly
"An act of pure bravado, dizzying proof that to keep your balance you need to know how to fall."—O: The Oprah Magazine
Praise for Let the Great World Spin: A Novel
"This is a gorgeous book, multilayered and deeply felt, and it's a damned lot of fun to read, too. Leave it to an Irishman to write one of the greatest-ever novels about New York. There's so much passion and humor and pure lifeforce on every page of Let the Great World Spin that you'll find yourself giddy, dizzy, overwhelmed."—Dave Eggers

"In his own gritty and lyrical voice, Colum McCann has lifted up a handful of souls to the light in this big-hearted, adroit and probing novel, and brought forth a spectrum of the painful, the beautiful and the unexpected."—Amy Bloom
"Every character grabs you by the throat and makes you care. McCann's dazzling polyphony walks the high wire and succeeds triumphantly."—Emma Donoghue, author of Room
"What a book! Complex and captivating . . . a very sensual novel."—John Boyne, author of The Boy in the Striped Pajamas

"Now I worry about Colum McCann. What is he going to do after this blockbuster groundbreaking heartbreaking symphony of a novel? No novelist writing of New York has climbed higher, dived deeper."—Frank McCourt, author of Angela's Ashes
"With Philippe Petit's breathless 1974 tightrope walk between the uncompleted WTC towers at its axis, Colum McCann offers us a lyrical cycloramic high-low portrait of New York City in its days of burning; Park Avenue matrons, Bronx junkies, Center Street judges, downtown artists and their uptown subway-tagging brethren, street priests, weary cops, wearier hookers, grieving mothers of an Asian war freshly put to bed; a masterful chorus of voices all obliviously connected by the most ephemeral vision; a pin-dot of a man walking on air 110 stories above their heads."—Richard Price, author of Lush Life
"Stunning . . . [an] elegiac glimpse of hope . . . It's a novel rooted firmly in time and place. It vividly captures New York at its worst and best. But it transcends all that. In the end, it's a novel about families—the ones we're born into and the ones we make for ourselves."—USA Today
"The first great 9/11 novel . . . It is a pre-9/11 novel that delivers the sense that so many of the 9/11 novels have missed: We are all dancing on the wire of history, and even on solid ground we breathe the thinnest of air."—Esquire
"Mesmerizing . . . a Joycean look at the lives of New Yorkers changed by a single act on a single day . . . Colum McCann's marvelously rich novel . . . weaves a portrait of a city and a moment, dizzyingly satisfying to read and difficult to put down."—The Seattle Times

"Vibrantly whole . . . With a series of spare, gorgeously wrought vignettes, Colum McCann brings 1970s New York to life. . . . And as always, McCann's heart-stoppingly simple descriptions wow."—Entertainment Weekly
"An act of pure bravado, dizzying proof that to keep your balance you need to know how to fall."—O: The Oprah Magazine
"The Great New York Novel. With echoes of Wolfe, Doctorow, and DeLillo, Colum McCann's mesmerizing Let the Great World Spin is a prophetic portrait of New York City in the summer of 1974. . . . A fine introduction to a major talent. It is one of the year's best novels."—Taylor Antrim, The Daily Beast
"[McCann] both resurrects and redeems the horrors of Sept. 11, creating a metaphorical landscape of human endurance in the face of unspeakable tragedy. . . . This is McCann's gift, finding grace in grief and magic in the mundane."—San Francisco Chronicle
"A shimmering, shattering novel. In McCann's wise and elegiac novel of origins and consequences, each of his finely drawn, unexpectedly connected characters balances above an abyss, evincing great courage with every step."—Booklist (starred review)
"If William Butler Yeats and Allen Ginsberg had written a novel together, it would be this sad, this deep, this urban, this manic and this highly charged. . . . McCann's power—his language, his human understanding, his vision—holds us in an embrace as encompassing as the great world itself."—The Buffalo News
"Beautiful, heady . . . As worn down as McCann's characters are, they each struggle heroically against life's downward pull, and that's what makes the novel so powerfully uplifting."—Richmond Times-Dispatch
"Seductive [with a] propulsive pace . . . This is a New York teeming with leathery men and vicious beauties. The city itself is a stalled machine. People don't arrive here; they crawl into it. McCann's style is lyrical and sharp, as he expertly weaves together the lives of a handful of seemingly disparate characters."—The Oregonian
"Sprawling, lyrical . . . McCann [is a] novelist you should know a lot more about."—New York