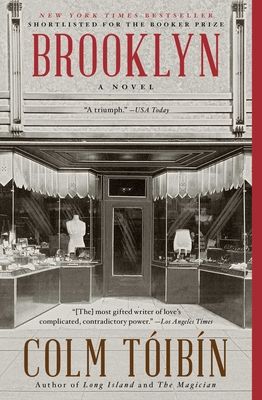 Brooklyn: A Novel
Publication Date:
March 2nd, 2010
Usually Ships to Store in 4 to 7 Days
Eilis Lacey has come of age in the dark, impoverished Ireland of the 1950s. Trained as a bookkeeper but unable to find suitable work, she makes a new home in Brooklyn. Struggling to understand her new world and haunted by the old, she lives the classic immigrant story of loss and regret, hope and resilience. Brooklyn is a quiet tour de force.
May 2009 Indie Next List
One of the loveliest novels of 2009 now available in paperback: an Irish coming-of-age story that is both heartrending and full of hope. Toibin is a master.
March 2010 Indie Next List
Eilis Lacey has no apparent future in rural Ireland, and with the help of a priest makes her way to a Catholic enclave in Brooklyn. Uncanny in its evocation of a young woman coming of age, and of a city coming of age, Brooklyn is at once interior and ironic, distanced and involving. Toibin, who is masterful here in his depiction of Brooklyn and Ireland circa 1950, and of such issues as self determination, love of country, love of family, and, of course, sexual love. Perfect for book groups!
Summer '10 Reading Group List
Description
Colm Tóibín's New York Times bestselling novel—now an acclaimed film starring Saoirse Ronan and Jim Broadbent nominated for four Academy Awards including Best Picture—is "a moving, deeply satisfying read" (Entertainment Weekly) about a young Irish immigrant in Brooklyn in the early 1950s.
"One of the most unforgettable characters in contemporary literature" (Pittsburgh Post-Gazette), Eilis Lacey has come of age in small-town Ireland in the hard years following World War Two. When an Irish priest from Brooklyn offers to sponsor Eilis in America, she decides she must go, leaving her fragile mother and her charismatic sister behind.
Eilis finds work in a department store on Fulton Street, and when she least expects it, finds love. Tony, who loves the Dodgers and his big Italian family, slowly wins her over with patient charm. But just as Eilis begins to fall in love, devastating news from Ireland threatens the promise of her future.
Author "Colm Tóibín…is his generation's most gifted writer of love's complicated, contradictory power" (Los Angeles Times). "Written with mesmerizing power and skill" (The Boston Globe), Brooklyn is a "triumph…One of those magically quiet novels that sneak up on readers and capture their imaginations" (USA TODAY).
Praise for Brooklyn: A Novel
Praise for Brooklyn
"Written with mesmerizing power and skill." —Richard Eder, Boston Globe
"Colm Tóibín … [is] his generation's most gifted writer of love's complicated, contradictory power." —Floyd Skoot, Los Angeles Times
"Tóibín creates suspense out of the simplest emotions: fear, love and, most poignantly, regret." —Time
"Eilis' universal struggles with matters of the heart … make this novel … a moving, deeply satisfying read." —Entertainment Weekly
"[A] gem of a novel… profound." —Maureen Corrigan, NPR
"Quietly majestic." —Claire Messud, The New York Review of Books
"[A] masterly tale… There is not a sentence or a thought out of place…. His finest fiction to date." —Bernard O'Donoghue, Irish Times
"[A] triumph… One of those magically quiet novels that sneak up on readers and capture their imaginations." —USA Today