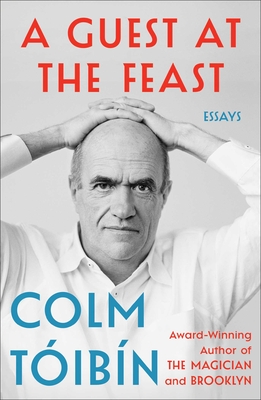 A Guest at the Feast: Essays
Publication Date:
January 17th, 2023
Usually Ships to Store in 4 to 7 Days
Description
Named a Most Anticipated Book of 2023 by LitHub and The Millions!
From one of the most engaging and brilliant writers of our time comes a "not to be missed" (LitHub) collection of eleven essays about growing up in Ireland during radical change; about cancer, priests, popes, homosexuality, and literature.
"IT ALL STARTED WITH MY BALLS." So begins Colm Tóibín's fabulously compelling essay, laced with humor, about his diagnosis and treatment for cancer. Tóibín survives, but he has entered, as he says, "the age of one ball." The second essay in this seductive collection is a memoir about growing up in the 1950s and '60s in the small town of Enniscorthy in County Wexford, the setting for many of Tóibín's novels and stories, including Brooklyn, The Blackwater Lightship, and Nora Webster. Tóibín describes his education by priests, several of whom were condemned years later for abuse. He writes about Irish history and literature, and about the long, tragic journey toward legal and social acceptance of homosexuality.
In Part Two, Tóibín profiles three complex and vexing popes—John Paul II, Benedict XVI, and Francis. And in Part Three, he writes about a trio of authors who reckon with religion in their fiction. The final essay, "Alone in Venice," is a gorgeous account of Tóibín's journey, at the height of the pandemic, to the beloved city where he has set some of his most dazzling scenes. The streets, canals, churches, and museums were empty. He had them to himself, an experience both haunting and exhilarating.
"A tantalizing glimpse into Tóibín's full fictional powers," (The Sunday Times, London) A Guest at the Feast is both an intimate encounter with a supremely creative artist and a glorious celebration of writing.
Praise for A Guest at the Feast: Essays
PRAISE FOR A GUEST AT THE FEAST 
"Colm Tóibín has written superb novels…but if you've only read his fiction, you've been missing out on a wealth of wonderful essays and criticism….Not to be missed." —LitHub
"Distinctive, remarkable …Fans and newer readers will be absolutely glued to every word." —Bay Area Reporter
"This isn't Tóibín's first foray into nonfiction—but it is one of his most intimate." —Sophia M. Stewart, The Millions
"A Guest at the Feast is a reminder of Colm Tóibín's power as a writer of more than just fiction…Tóibín's cleareyed, considered critiques of powerful people and vivid personal essays can make readers long for a place they've never seen." —Sarah McCraw Crow, BookPage
"This volume opens with his poignant journey through cancer treatment and a looming sense of mortality… A hallmark of Toíbín is his uncanny ability to deftly express the emotional undercurrent in his writing, be it loneliness, anger, or nostalgia." —Bill Kelly, Booklist
"An erudite and consistently stimulating collection." —Harvey Freedenberg, BookReporter
"Tóibín gathers 11 essays that showcase his versatility in this erudite collection of previously published material… this collection places him in that same class. Tóibín's fans will relish these sharp reflections." —Publishers Weekly
"A celebrated novelist… magnificent…these essays show the landscape of the author's soul, mapping out events that have shaped him as a person and writer… throughout, the poetry of Tóibín's prose is as impressive as always. Readers will savor every page of this book. Erudite essays from one of the world's finest writers."—Kirkus Reviews, STARRED review
"The breadth of the collection is impressive... Written with brutal clarity and flashes of humour, it encapsulates Tóibín as a whole, a master of light and shade." —Sarah Gilmartin, Irish Times
"Throughout the collection, it is the droll, melancholy elegance of the prose that guarantees the reader's enjoyment." —John Mullan, The Guardian
"There is nothing flashy about these essays, no showing off. They are always interesting and intelligent, written in an admirably clear prose free of academic jargon. In short, this is journalism at its best." —Alan Massie, The Scotsman
"Sumptous… Tóibín creates a sweeping, lyrical portrait of the small-town idiosyncrasies, natural landscapes and family histories in southeast Ireland on which his novels have drawn for three decades… But fittingly, it's precisely the details of that provincial world that Toibin conjures up superbly here." —Robert Collins, The Times
"Tóibín's voice is so powerful and distinct, his descriptions so precise, that a single thread does weave through each of these pieces and does not snap… virtuoso… the pieces in A Guest at the Feast are a tantalizing glimpse into his full fictional powers. Time to crack open Brooklyn again." —Laura Hackett, The Sunday Times
"Tóibín does something interesting with the illness memoir here: he seeks no lessons; he tries only to be good company on the page. His eyes are always alert; the guest at the feast is always watching closely." —Kevin Power, Irish Independent
"Tóibín's writing is what people these days inevitably describe as nuanced, a word that has become a kind of shorthand for expressing a person's rare ability to understand – or to try to understand – the foibles of others." —Rachel Cooke, The Guardian