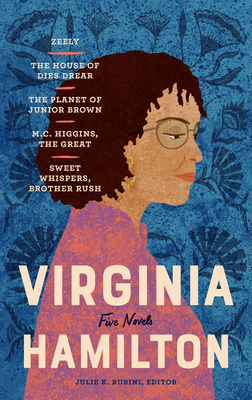 Virginia Hamilton: Five Novels (LOA #348): Zeely / The House of Dies Drear / The Planet of Junior Brown / M.C. Higgins, the Great / Sweet Whispers, Brother Rush
Publication Date:
September 28th, 2021
Publisher:
Library of America Young Readers
Usually Ships to Store in 4 to 7 Days
Description
Rediscover America's most honored writer of children's literature in this deluxe collector's edition of her finest work: five classic novels about African American young people confronting the world and its many challenges
Playing out themes of memory, folklore, and tradition in enthralling, often wildly inventive stories, Virginia Hamilton transformed American children's literature in the 1960s and 70s. Her award-winning novels brought Black characters center stage, creating a multifaceted portrait of African American life that she called "liberation literature." This volume collects five of her best known and most beloved works.
 
In Zeely (1967), Geeder Perry and her brother, Toeboy, go to their uncle's farm for the summer and encounter a six-and-a-half-foot-tall Watusi queen and a mysterious night traveler.
 
In the Edgar Award–winning The House of Dies Drear (1968), Thomas Small and his family move to a forbidding former waystation on the Underground Railroad—a house whose secrets Thomas must discover before it's too late.
 
Junior Brown, a three-hundred-pound musical prodigy, plays a silent piano in The Planet of Junior Brown (1971), while his homeless friend Buddy Clark draws on all his New York City wit to protect Junior's disintegrating mind.
 
In the National Book Award–winning M.C. Higgins, The Great (1974), Mayo Cornelius Higgins sits atop a forty-foot pole on the side of Sarah's Mountain and dreams of escape. Poised above his family's home is a massive spoil heap from strip-mining that could come crashing down at any moment. Can he rescue his family and save his own future? Must he choose?
 
And in Sweet Whispers, Brother Rush (1982), fifteen-year-old Tree's life revolves around her ailing brother, Dab, until she sees cool, handsome Brother Rush, an enigmatic figure who may hold the key to unlocking her family's troubled past.
 
This Library of America edition contains twenty beautifully restored illustrations, ten in full color for the first time; a selection of writings in which Hamilton discusses her work; and a newly researched chronology of Hamilton's life and career.
 
Praise for Virginia Hamilton: Five Novels (LOA #348): Zeely / The House of Dies Drear / The Planet of Junior Brown / M.C. Higgins, the Great / Sweet Whispers, Brother Rush
"Last fall, the Library of America brought out a one-volume edition of five of Hamilton's most celebrated YA novels; their tone is like nothing else I've read. Hamilton's stories are suffused with off-kilter weirdness, humor and a sense of menace that her young characters intuit, but the adults around them have become numb to. That danger often has its roots in racism. . . . That's how Hamilton's novels read: fluid, inevitable and full of purpose." —Maureen Corrigan, "FRESH AIR"
"LOA's "Virginia Hamilton: Five Novels" ($35), a new, overdue celebration of the great '60s-'70s Young Adult author, returns you to middle-school book fairs and Scholastic ordering forms. Though she died in 2002, Hamilton — the first Black author to get a Newberry Medal for children's books (and first children's book author to land a MacArthur "genius" grant) — wrote about homeless, slavery, promise and folklore with a tenderness that reached beyond YA. Or, as she put it, the "Black of the Month Club." These are, for lack of a better description, adult books for smart kids." —Chicago Tribune
"Virginia Hamilton was a master storyteller. Her characters always leap off the page, and her ear for Black voices was pitch perfect. M.C. Higgins, The Great is my personal favorite, but today's young readers will find each of these novels a treasure, both right-on-time and timeless. Is that not the definition of a classic?"
—Nikki Grimes, author of Ordinary Hazards and Bronx Masquerade