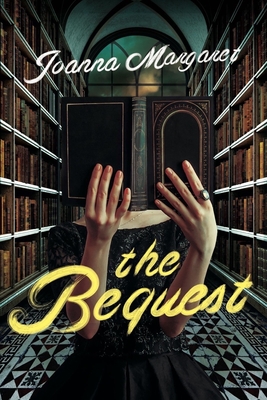 The Bequest: A Dark Academia Thriller
Publication Date:
September 26th, 2023
Usually Ships to Store in 4 to 7 Days
Description
Named a "Most Anticipated" October Thriller by Bustle, PopSugar, & CrimeReads 
After her professor's suspicious death, a PhD student uncovers dark machinations among her academic associates in this "richly atmospheric and irresistibly readable" (Joyce Carol Oates) Gothic mystery set between Scotland, Italy, and France.
Fleeing a disastrous affair with a colleague in Boston, Isabel Henley moves to Scotland to begin a PhD with a renowned feminist professor—only to learn, upon arrival, that her advisor has suffered a deadly fall. Soon after, Isabel is informed that another scholar at the university is about to publish a book on her dissertation topic, leaving her disconcerted and in search of a new subject, all while struggling to acclimate to her new home abroad.
Isabel needs a good friend during such a rocky start, and finds one when she reconnects with Rose Brewster, her charismatic classmate from undergrad. But when Rose confides to Isabel that she is in trouble, and then goes missing, Isabel's already-unsteady life is sent into a tailspin. A suicide note surfaces, followed by a coded message: Rose is alive but, unless Isabel can complete the research begun before her friend's disappearance, both women will be killed by her captors. 
As Isabel follows the Rose's paper trail from Genoa to Florence and, finally, to Paris, she uncovers family secrets, the legend of an enormous cursed emerald, and a chain of betrayal and treason which parallels her own perilous present. If she can put the pieces together soon, she could solve a 400-year-old mystery—and save her and her friend's lives in the process.
Combining epistolary elements, Gothic suspense, and an atmospheric "dark academia" setting, The Bequest is a gripping literary thriller that will appeal to fans of Alex Michaelides' The Maidens and Donna Tartt's The Secret History. 
Praise for The Bequest: A Dark Academia Thriller
Interlocking mysteries lie at the heart of Joanna Margaret's richly atmospheric and irresistibly readable debut novel, the harrowing saga of a young American woman historian who finds herself embroiled in a Machiavellian plot reaching back to 16th century Italy. Whether evoking present-day Scotland in a windswept region overlooking the North Sea, or Renaissance Genoa in a time of vertiginous political plotting, The Bequest is filled with unexpected turns and revelations for the reader as well as the historian-heroine.
— Joyce Carol Oates
Intricately plotted, exquisitely written, and brimming with atmosphere, The Bequest is a brilliant debut, as smart as it is compelling.
— Tasha Alexander
A first rate mystery by a first time author. Intriguing plot and well drawn characters.
— Martin Cruz Smith
There are two attractions here: the present-day academic whodunnit and the olden puzzle revealed in Renaissance letters; viewers of the Netflix series 'The Chair' will eat this up, as will readers of Philippa Gregory and Robert J. Lloyd.
— First Clues
Readers will eagerly await Margaret's next.
— Publishers Weekly
This one will appeal to lovers of Dan Brown and Elizabeth Kostova and other mysteries of old documents and historical figures.
— Kirkus