Discounted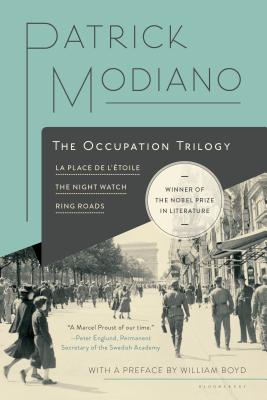 The Occupation Trilogy: La Place de l'Étoile – The Night Watch – Ring Roads
Previous price:

$18.99
Current price:

$18.00
Publication Date:
September 22nd, 2015
Publisher:
Bloomsbury USA
This item is backordered and may take several weeks to ship
Description
Born at the close of World War II, 2014 Nobel Prize winner Patrick Modiano was a young man in his twenties when he burst onto the Parisian literary scene with these three brilliant, angry novels about the wartime Occupation of Paris.
The epigraph to his first novel, among the first to seriously question Nazi collaboration in France, reads: "In June 1942 a German officer goes up to a young man and says: 'Excuse me, monsieur, where is La Place de l'Étoile?' The young man points to the star on his chest." The second novel, The Night Watch, tells the story of a young man caught between his work for the French Gestapo, his work for a Resistance cell, and the black marketeers whose milieu he shares. Ring Roads recounts a son's search for his Jewish father who disappeared ten years earlier, whom he finds trying to weather the war in service to unsavory characters.
Together these three brilliant, almost hallucinatory evocations of the Occupation attempt to exorcise the past by exploring the morally ambiguous worlds of collaboration and resistance. Award-winning translator Frank Wynne has revised the translations of The Night Watch and Ring Roads--long out of print--for our current day, and brings La Place de l'Étoile into English for the first time. The Occupation Trilogy provides the perfect introduction to one of the world's greatest writers.
Praise for The Occupation Trilogy: La Place de l'Étoile – The Night Watch – Ring Roads
"La Place de l'Etoile . . . is arguably his most explosive." —Alan Riding, The New York Times Book Review
"In 1968, Mr. Modiano published his first novel, 'La Place de l'Étoile' ('The Place of the Star'), which appeared in English in September in Bloomsbury's The Occupation Trilogy. The book's narrator is a Jewish swindler and pimp. Its vivacious, baroque style . . . contrasts with its sombre title, which refers both to the Paris square and the spot on their chests where Jews were forced to pin yellow stars. The book immediately put Mr. Modiano on the literary map . . . After 'La Place de l'Étoile,' Mr. Modiano's books develop a different tone, one more mellow and melancholic, somewhere between sepia and film noir . . . Modiano's books are like mystery novels, in which the search for information only creates more mysteries." —Rachel Donadio, The New York Times
"World War II, the Occupation, and the Holocaust cast their massive shadows forward in time, obscuring the events of the narrator's life . . . Like W.G. Sebald, another European writer haunted by memory and by the history that took place just before he was born, Modiano combines a detective's curiosity with an elegist's melancholy." —Adam Kirsch, New Republic, on Suspended Sentences
"[Modiano] pays complicated, elegiac and almost ghostly tribute to his native city . . . He is obsessed with what we take away from our pasts and what we leave behind. And perhaps most important, with what we only think we've left behind . . . [He] frequently seems a flâneur of consciousness, strolling purposefully through Paris's cache of memories as well as his own." —Dwight Garner, The New York Times, on Suspended Sentences
"Mr Modiano's work obsessively revisits the German occupation of France in the second world war, throwing light on some of the conflict's murkier recesses . . . His first novel, La Place de l'Etoile . . . denounced the home-grown brand of anti-semitism that had made it easy for France's Vichy regime to slide into collaboration. The book took aim at the Gaullist myth that dominated the post-war years, according to which France was a nation of resisters. A year later, La Ronde de Nuit explored the nature of the French Gestapo and its role in the spoliation of Jewish property . . . Mr Modiano's novels are pervaded by a sexual and moral ambivalence and by social and political ambiguity . . . And Paris features as a character in her own right, refusing to surrender the secrets of her past." —The Economist on Suspended Sentences