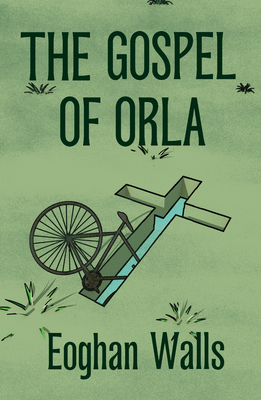 The Gospel of Orla
Publication Date:
March 7th, 2023
Publisher:
Seven Stories Press
Usually Ships to Store in 4 to 7 Days
Somehow,The Gospel of Orlais simultaneously zany and sincere, tackling both parental loss and a whimsical, yet heart breaking, look at a post-Christianity Jesus. This is a triumphant debut for Walls and makes me excited for his next work.
March 2023 Indie Next List
Description
Most anticipated in the IRISH TIMES, TORONTO STAR, and the BOOK CULTURE newsletter • INDIE NEXT LIST PICK • LIBRARY READS SELECTION • PERFECT FOR BOOK CLUBS • DEBUT NOVEL
"A consistently surprising, evocative, almost impossible to put down, and gloriously original work." —Booklist
A stunning debut novel from the Northern Irish poet Eoghan Walls, The Gospel of Orla is the coming-of-age story of a young girl, Orla, and the man she meets who has an astonishing and unique ability.
It is also a road novel that takes us across the north of England after the two flee Orla's village together. Here the mysteries of faith charge full bore into the vagaries of contemporary mores. A humorous, wise, deeply human and sometimes breathtaking work of lyrical fiction. 
"A melancholic, funny, and magical coming-of-age story, The Gospel of Orla is glorious, wise, and totally weird. I loved it." —Annie Hartnett, author of Unlikely Animals
"Utterly convincing and fresh and original." —Colm Tóibín, author of The Magician
"In his debut novel, poet Eoghan Walls imagines the intersection of the material and the mystic. . . . As the troubled teenager ricochets between circus illusion and divine touch, she and the reader are beckoned to ponder where magic ends and miracles begin." —Kia Corthron, author of Moon and the Mars
Praise for The Gospel of Orla
"As coming-of-age stories go, The Gospel of Orla is winningly off-kilter. Walls refuses easy sentimentality, and the story is brisk and surprising, perfectly paced. . . . Walls's marvelous novel asks what we might look for by way of consolation. A miracle shouldn't be too much to ask." —Claire Luchette, The New York Times Book Review
"By turns funny, surprising, moving. With a poet's control and playfulness, it paints a convincing portrait of a teenagers grief and resilience." —Niamh Donnelly, The Irish Times
"[Orla] is a brilliantly engaging protagonist. By blending a fable-like structure and Orla's grittily realistic voice, Walls has created a consistently surprising, evocative, almost impossible to put down, and gloriously original work." —Booklist
"In The Gospel of Orla by Northern Irish poet Eoghan Walls, Ireland represents the land of the heart's desire for its 14-year-old heroine, living in Lancashire with her father and little sister. Distraught at the recent death of her mother, Orla plans to run away to Liverpool to board the ferry and surprise her maternal relatives. There is just one hitch; escaping on her bike in the middle of the night, she collides with a homeless man who claims, very persuasively, to be the resurrected Jesus.  . . . [A] weird and original tale." —Financial Times
"The Derry, Northern Ireland poet Eoghan Walls is a storyteller, as it turns out, of the absolute first rank. From the very first scene of this — I'm reading it right now — where a young woman tries to run away from home on a bicycle and doesn't succeed in doing so. Incredibly good reading. If you looking to dip your toes a little further into the waters of international literature which is really my passion, I am here to tell you.... check out The Gospel of Orla, it's really a great read."  —John  Darnielle of the  Mountain  Goats 
"The Gospel of Orla is written with immense control and precision so that the voice of the protagonist emerges as alive, individual and memorable. Eoghan Walls manages to make every single emotion Orla feels—every thought, response and action—utterly convincing and fresh and original." —Colm Tóibín, author of The Magician
"Although Orla longs to see her mother again, it is the girl herself who needs bringing back to life – something Walls manages in this poignant, hopeful, compelling little book that offers a window into a troubled teenage soul." —Susie Mesure, The Spectator (UK)
"In his debut novel, poet Eoghan Walls imagines the intersection of the material and the mystic when a grieving adolescent stumbles upon a struggling savior. Walls provides an authentic and page-turning narrative from the perspective of his restless and ever-beguiling protagonist. As the troubled teenager ricochets between circus illusion and divine touch, she and the reader are beckoned to ponder where magic ends and miracles begin." —Kia Corthron, author of Moon and the Mars
"A melancholic, funny, and magical coming-of-age story, The Gospel of Orla is glorious, wise, and totally weird. I loved it." —Annie Hartnett, author of Unlikely Animals
"The Gospel of Orla is an astonishing feat of characterisation and storytelling. The prose is both earthy and sparkling and the story—equal parts bravado and vulnerability—is told with both wit and tenderness. Everyone should read this." —Jenn Ashworth, author of Ghosted
"Eoghan Walls writes with humour, inventiveness and irreverence in The Gospel of Orla. Its wholly convincing adolescent lead is neither hero, anti-hero, nor villain. The people she encounters are neither saints nor sinners, however we might mistake them for the same. This novel is exactly the sort of searching, truth-troubling story that Orla needs to read, that would surely stay with her." —Caoilinn Hughes, author of The Wild Laughter and Orchid & the Wasp
"Orla's stream-of-consciousness sings with a carefully crafted combination of music and the genuine workings of a teenager's mind. . . . her voice and the mystery of her experience make this novel a compelling, unique read." —New York Journal of Books
"What a perfect little miracle of a book. Walls has somehow explained the questions posed by yearning and the answers supplied by faith. And all in the voice of a bold, sad, brave, young delinquent. Here, in this slender volume, is the whole circus that is life, comprised, as it always is, of Doritos and heartbreak; cellphones and the love a parent has for his child; tshirts and sacrifice. A real beauty." —Erica Eisdofer, Flyleaf Books, Chapel Hill, North Carolina
"Move over, Anna Burns! Outta the way, Sally Rooney! There's a new voice straight from the Emerald Isle; Eoghan Walls, a poet by trade, is smashing onto the fiction scene with his debut novel." —Book Culture, Most Anticipated Books in March 2023
"This is a taut, suspenseful novel, narrated by a perceptive and unforgettable young heroine. Orla's wits, determination, and pain shoot through every page, and through her eyes Eoghan Walls writes an arresting story of family, loss, and growing up that speaks eloquently to our times." —Furaha Norton, Joseph Beth Booksellers, Cincinnati OH
"A touching, jaunty coming of age story with dark and humorous overtones, The Gospel of Orla is right up my alley. I thought Walls' lyrical prose really worked in helping establish a voice and presence for her young nearly-adult main character. If you're interested in authors who aren't afraid to take risks in the pursuit of creating something new and exciting, I'd recommend this read for sure." —David Bouklas, Boukie's Bookshop, South-West of France
"It is only January, and already I know this book will be in my top ten of the year. I would follow Orla and Jesus anywhere. This is the kind of gospel I can get behind." —Bex Frankeberger, Books Are Magic, Brooklyn NY
"When Orla teams up with Jesus it's only the latest in her schemes to escape the reality of her mother's death. She's an unforgettable character and I can easily imagine her as one of the troublemakers at my old high school. Here's to the Orlas of the world!" —Anne Holman, The King's English Bookshop, Salt Lake City, Utah
"A charmingly curious novel that skirts the edges of both classic Irish themes surrounding faith and loss that also blends it with a supernatural coming of age comedy. Somehow The Gospel of Orla is simultaneously zany and sincere, tackling both parental loss and a whimsical, yet heart breaking, look at a post-Christianity Jesus. This is an triumphant debut for Walls and makes me excited for their next work." —Isaiah Scandrette, Folio Books, San Francisco, California
"It took a single paragraph for me to be wholeheartedly rooting for surly Orla, despite her sometimes delinquent methods. Her struggle to square the crushing mundane of mortality with sudden, wondrous, mythic magic is so endearing." —Amanda Qassar, Warwick's, La Jolla, California
"The Gospel of Orla is a debut from Northern Irish poet Eoghan Walls who brilliantly conveys to the reader all the rapidly changing and overwhelming emotions of the creative and somewhat rascally Orla." —Lyn Roberts, Square Books, Oxford, Mississippi
"Orla is beautifully and believably drawn through funny and devastating inner-dialogue. As she grapples with the nonsensical nature of her grief, her adolescence is on beautiful display. Eoghan Walls has written a complex, achingly sad, and lovingly hopeful novel of a young girl whose faith is shattered, and yet, she is determined to gather the pieces and look them straight in the face." —Margaret Leonard, Dotters Books, Eau Claire, Wisconsin
"We all have voices in our heads narrating our daily lives, feelings, and inner thoughts. Eoghan Walls has done a breathtaking job of letting us listen to the inside voice of Orla, a 14 year old girl struggling with her rearranged reality in the wake of her mother's recent death and her father's love for too much alcohol.  Her voice is both peripatetic and poetic as she tries to run away from it all. In the process, Orla meets a man named Jesus who can resurrect dead animals, an abused circus elephant, and her own raw emotion." —Wendy Wasserman, Politics & Prose, Washington DC
"The beauty of this book lies in the writing. Orla's voice rings so true, that the reader is with her every step of the way. The Gospel of Orla is a lyrical and mesmerizing read. I loved it." —Pat Rudebusch, Orinda Books, Orinda, California
"This debut coming-of-age novel from poet Walls is packed with dark, quirky charm. . . . The Gospel of Orla is the strangest of all buddy stories, full of pitch-black, broody humor." —Grace Harper, Mac's Backs, Cleveland Heights, Ohio
"Teenage Orla's mother has died, and she is struggling with her grief.  She meets a man called Jesus and they run away to try to get to Ireland where her mother is buried. This is an appealing coming of age story that would lead to much discussion. What a good book. I'll feature it in the March book club email." —Beth Carpenter, The Country Bookshop, North Carolina
"Walls infuses the book with such kinetic energy and assuredness that you wouldn't think this is his debut. And Orla is such a sympathetic and magnetic character, the book is effortless to read despite the quite heavy themes." —Bennard Fajardo, Politics and Prose Bookstore, Washington, DC
"Orla is grieving the lost of her mother when she attempts to leave her father and baby sister behind to go to Ireland. Her first attempt fails miserably. A coming-of-age novel that is witty, bold and lyrical; it reminds us what it means to be human." —Shannon Alden, Literati Books, Ann Arbor, Michigan
"OMG just finished The Gospel of Orla and I am sobbing. So brilliant. The voice, the characters, it's fantastic. Will be handselling like crazy." —Maria Roden, Olivia & Daisy Bookstore, Carmel Valley, California
"The Gospel of Orla is a gritty yet lyrical coming of age novel with a unique, vibrant voice. I was drawn in immediately by Orla and I found the magical realism aspect fascinating." —Debbie Brannigan, Bexley Public Library
"The Gospel of Orla is written in prose, but clearly by a poet. The lyrical language belies the delicate story of 14-year-old Orla struggling to find her footing after the death of her mother. She wants to be a rebellious twerp but can't help loving the other survivors in her family. With the help of a new person in her life and a splash of magical realism, she sets off on a journey to re-set her life." —Amelia Jenkins, Juneau Public Library
"The Gospel of Orla by Eoghan Walls is like no other book you will ever read. It is about heartbreak (mother died), rebellion, and just trying to fit in. This has to be on TBR list if you haven't already read it." —Melissa Turner, Maricopa Library
"An engaging, original story. Orla is a character you will root for, despite all her bad behaviors.  This coming-of-age story will have a cross-over appeal to teens." —Jennifer Kelley, Kershaw County Library
"I thought it was phenomenal.  What a great cross-over book — it could easily be in YA/Teen collections…. Reminiscent of A Prayer for Owen Meany and a Man Called Ove, Orla is a survivor learning what is means to be herself. Journeying through the hillsides, unintentionally taking every road less traveled, runaway Orla strives to make her way to Ireland while meeting Jesus (both figuratively and well, literally but still figuratively). An excellent standalone book for teen readers and for adults. Despite being a man, Walls just nails it with creating Orla's character, you can't help but root for her. I hated that the book ended because I loved it so much—but I loved that what was written was 'just right'. Perfection. Highly recommend. I fully plan to read everything else Eoghan Walls has written for obviously he. is. a. master."  —Amy Olson,  Youth Services Consultant, Kentucky Department for Libraries and Archives
"Orla's coming of age story is by turns heartbreaking, funny, incredibly odd but always compelling. The death of Orla's mother feels like a character as Orla tries to run away from her father who uses alcohol for his grief. Running into a homeless man named Jesus adds more oddness along with religious overtones, some magical realism, and an amazingly good story." —Crystal Faris, Deputy Director, Youth & Family Engagement, Kansas City Public Library
"The stream-of-consciousness writing drew me in and I enjoyed going on this dangerous, but humorous, journey with Orla. Walls gets the reader invested without pouring pity on the characters." —Laura Stein, New York Public Library
"I just read The Gospel of Orla and I simultaneously want everyone to give Orla some space and a hug. I also feel I should search out the author's poetry. The writing is spare, and it feels like it was etched by wind, that natural forces created Orla and her world." —Drea Douglas, North Bend Public Library, Oregon
"This lyrical novel follows Orla as she comes of age in the UK. Beautifully written, delicately wrought, fans of literary fiction will love it." —Marie Byars, Sno-Isle Libraries
"The narrative voice of the character Orla drives it all and makes it worth reading. Walls does well creating a flawed but likeable protagonist whose emotional journey you cannot help but tag along for the ride." —Maren Kyle, Rochester Public Library
"I finished this book and announced out loud to myself 'that was the weirdest book I have ever read'! This is a positive thing, I really enjoyed The Gospel of Orla, it is beautifully written and even though none of the characters were very likeable, I was still rooting for them. Eoghan Walls provides lots to think about with many moments of wonder in both the mundane and magical. I will be purchasing this book for the library and recommending it to our patrons." —Clare Etheridge, Brentwood Public Library
"This debut novel is enchanting and surreal. The Gospel of Orla follows the eponymous character Orla as she runs away from the grief she feels for her mother's death with a strange man with magical power that she meets on the side of the road. Walls' writing gives Orla a distinct and often hilarious voice." —Zach Arlt, Monmouth County Library