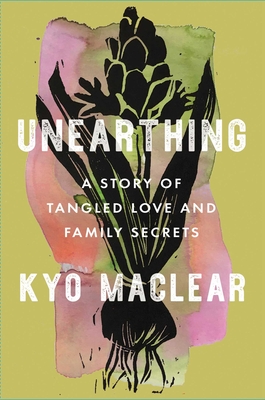 Unearthing: A Story of Tangled Love and Family Secrets
Publication Date:
August 22nd, 2023
Rozzie Bound Co-op
1 on hand, as of Dec 7 6:12pm
(Literary Collections )
On Our Shelves Now
Description
A searing and unforgettable memoir about a family secret revealed by a DNA test, the lessons learned in its aftermath, and the indelible power of love.
"A moving account…[and] a reminder of the abundance of experience present in all families, and the power and healing that can come from honoring those many truths." —The Washington Post
Three months after Kyo Maclear's father dies in December 2018, she gets the results of a DNA test showing that she and the father who raised her are not biologically related. Suddenly Maclear becomes a detective in her own life, unravelling a family mystery piece by piece, and assembling the story of her biological father. Along the way, larger questions arise: what exactly is kinship? What does it mean to be a family? And how do we belong to larger ecosystems?
Unearthing is a captivating and propulsive story of inheritance that goes beyond heredity. Infused with moments of suspense, it is also a thoughtful reflection on race, lineage, and our cultural fixation on recreational genetics. Readers of Michelle Zauner's bestseller Crying in H Mart will recognize Maclear's unflinching insights on grief and loyalty, and keen perceptions into the relationship between mothers and daughters.
What gets planted, and what gets buried? What role does storytelling play in unearthing the past and making sense of a life? Can the humble act of tending a garden provide common ground for an inquisitive daughter and her complicated mother? "A lovely meditation on the hidden past and the blossoming future" (Kirkus Reviews) and a "generous, open-handed perspective" (NPR), Unearthing bursts with the very love it seeks to understand.
Praise for Unearthing: A Story of Tangled Love and Family Secrets
"A moving account of a daughter's struggle to know her mother before she loses her…This story is a reminder of the abundance of experience present in all families, and the power and healing that can come from honoring those many truths."—The Washington Post
"[A] masterful, original and poetic memoir... As Kyo slowly realizes that the father she's mourning isn't actually her father, she unearths truths she never saw coming. A mix of literary tactics like repetition and short form sections, this unique, powerful and captivating memoir mixed with gardening and plant life, is truly a wow."—Zibby Owens, Good Morning America 
"Many memoirs have examined issues of paternity and parental infidelity, but Maclear's stands out due to elegant writing and insightful musings on the making and shaping of identities, always with the garden behind her to provide an anchor... A lovely  meditation on the hidden past and the blossoming present."—Kirkus Reviews
"In this magnificent, searing memoir, Kyo Maclear takes us on a journey that is at once singular and utterly universal. What forces contribute to who we are and who we become? And what happens when the story we know to be true of ourselves is uprooted, unearthed? In poetic language that cuts to the bone, Maclear grapples with these questions and the result is a profound reading experience. I will never forget it."—Dani Shapiro, author of Inheritance 
"Unearthing is simply staggering. Maclear takes the shocking revelations of a DNA test and transforms them into a mind-altering and supremely generous exploration of kinship, selfhood, memory, and the roots we share across time, space and species. A quantum leap for an already brilliant and profound writer and thinker." —Naomi Klein, author of This Changes Everything