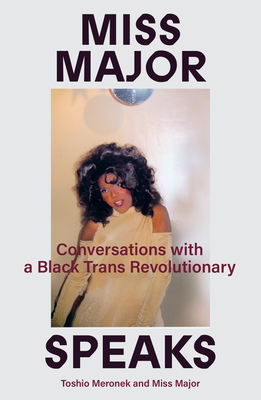 Miss Major Speaks: Conversations with a Black Trans Revolutionary
Publication Date:
May 16th, 2023
Rozzie Bound Co-op
1 on hand, as of Dec 7 6:12pm
(Family & Relationships )
On Our Shelves Now
Description
The future of Black, queer, and trans liberation explored by a legendary transgender elder and activist
Miss Major Griffin-Gracy is a veteran of the infamous Stonewall Riots, a former sex worker, and a transgender elder and activist who has survived Bellevue psychiatric hospital, Attica Prison, the HIV/AIDS crisis and a world that white supremacy has built. She has shared tips with other sex workers in the nascent drag ball scene of the late 1960s, and helped found one of America's first needle exchange clinics from the back of her van.
Miss Major Speaks is both document of her brilliant life–told with intimacy, warmth and an undeniable levity-and a roadmap for the challenges black, brown, queer and trans youth will face on the path to liberation today.
Her incredible story of a life lived and a world survived becomes a conduit for larger questions about the riddle of collective liberation. For a younger generation, she warns about the traps of 'representation,' the politics of 'self-care,' and the frequent dead-ends of non-profit organizing; for all of us, she is a strike against those who would erase these histories of struggle.
Miss Major offers something that cannot be found elsewhere: an affirmation that our vision for freedom can and must be more expansive than those on offer by mainstream institutions.
Praise for Miss Major Speaks: Conversations with a Black Trans Revolutionary
"To sit at Miss Major Griffin-Gracy's feet is a gift. I've experienced it firsthand, with her fixed, embracing gaze, her mischievous, generous laugh, and her sharp tongue lashing unfiltered truth without the ache to impress or perform."
—Janet Mock, Out Magazine
"The extraordinary insights in this book, always punctuated by Miss Major's razor-sharp wit, allow us to understand how liberation movements for trans, queer and other routinely marginalized people can hold the most emancipatory potential for all."
—Angela Davis, author of Freedom Is a Constant Struggle
"Miss Major has shaped the world in countless ways from Stonewall to today by being her unruly, fabulous self, leading communities, making time, and caring for and keeping her girls going. Lucky us to live in a moment where she is radiantly shining her light unto us all through this book!"
—Tourmaline, artist, writer, and filmmaker
"Though she has faced many struggles in her eight decades on Earth, Major's resilience, optimism, and often bawdy humor shine through...a powerful and enlightening read."
—Pax Ahimsa Gethen, Trans Writes
"[Miss Major's] most vital and resonant message is around self-hood: a continual creation and a journey to be enjoyed."
—Dinyar Godrej, New Internationalist
"When a figure such as Major speaks, you cannot help but eat each and every single word up."
—Tara Okeke, The Skinny
"Miss Major is an icon of Black trans womanhood."
—McKenzie Wark, LIBER
"Miss Major has been a crucial source of hope and support to many trans people ... In some ways, this book is a new version of the community building and emotional support that is Miss Major's life's work."
—Vic Parsons, Huck
"Major has played the role of lifeline and saviour to countless trans daughters ... [Miss Major Speaks] tracks her frontline learnings from community work, sex work, and her experiences of incarceration both in prison and in mental health facilities."
—Amelia Abraham, Dazed
"Miss Major speaks with such profound wisdom, highlighting the realities for Black trans women and how much the mainstream LGTBQ+ movement has left the most vulnerable behind…If there is a book to read and someone to listen and learn from, it's Miss Major."
—Elliot Page, Oprah Daily
"Miss Major Speaks is part biography, part interview and is full of Miss Major spitting truths and laying it down like it is....Change-making seems possible and even easy after reading Miss Major's words."
—Dr. Syrus Marcus Ware, Xtra Magazine
"Major's personality shines through unfiltered ... Her perspective has never been more pertinent."
—Felix Moore, openDemocracy