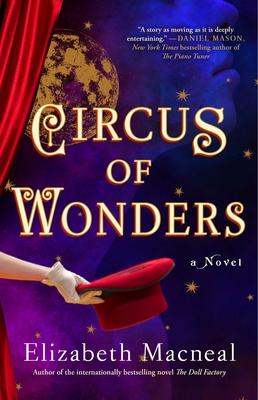 Circus of Wonders: A Novel
Publication Date:
October 11th, 2022
Publisher:
Atria/Emily Bestler Books
Usually Ships to Store in 4 to 7 Days
Description
From the #1 internationally bestselling author of the "lush, evocative Gothic" (The New York Times Book Review) The Doll Factory comes an atmospheric and spectacular novel about a woman transformed by the arrival of a Victorian circus of wonders—"as moving as it is deeply entertaining" (Daniel Mason, New York Times bestselling author).
Step up, step up! In 1860s England, circus mania is sweeping the nation. Crowds jostle for a glimpse of the lion-tamers, the dazzling trapeze artists and, most thrilling of all, the so-called "human wonders."
When Jasper Jupiter's Circus of Wonders pitches its tent in a poor coastal town, the life of one young girl changes forever. Sold to the ringmaster as a "leopard girl" because of the birthmarks that cover her body, Nell is utterly devastated. But as she grows close to the other performers, she finds herself enchanted by the glittering freedom of the circus, and by her own role as the Queen of the Moon and Stars.
Before long, Nell's fame spreads across the world—and with it, a chance for Jasper Jupiter to grow his own name and fortune. But what happens when her fame begins to eclipse his own, when even Jasper's loyal brother Toby becomes captivated by Nell? No longer the quiet flower-picker, Nell knows her own place in the world, and she will fight for it.
Circus of Wonders is a beautiful story about the "complex dance between exploitation and empowerment, and the question of what it really means to have control over your own life" (Naomi Ishiguro, author of Escape Routes).
Praise for Circus of Wonders: A Novel
"Circus of Wonders is a soaring, tumbling, whip-cracking book. Elizabeth Macneal has brought an extraordinary group of characters together in these pages; the result is a glittering world, a story as moving as it is deeply entertaining."
— Daniel Mason, New York Times bestselling author of THE PIANO TUNER
"I loved THE DOLL FACTORY and I loved CIRCUS OF WONDERS just as much ... An intriguing and beautifully written love story as well as an exploration of the journey from rejection to adoration ... Elizabeth Macneal explores the nature of exploitation, pride and vanity through her vibrant and believable characters."
— Jenny Quintana, author of THE MISSING GIRL
"A glittering, begrimed tale of love and self-determination flush with richly detailed prose. Sumptuous, macabre, enthralling; a perfect slice of Victoriana."
— Jane Healey, author of THE ANIMALS AT LOCKWOOD MANOR
"Elizabeth Macneal's novel is spectacular - a book of wonders!"
— Alix Nathan, author of THE WARLOW EXPERIMENT
"A beautifully told and immersive look at a complex dance between exploitation and empowerment, and the question of what it really means to have control over your own life. I adored its characters, I was utterly gripped throughout, and I loved having my eyes opened to the troubling yet fascinating world of Victorian circuses."
— Naomi Ishiguro, author of ESCAPE ROUTES
"The dark and evocative story drew me in immediately. What a rich world Macneal has created--both harrowing and deeply human. The ending is defiant in the best ways and wonderfully satisfying."
— Megan Campisi, critically acclaimed author of SIN EATER
"Utterly captivating. CIRCUS OF WONDERS is rich with historical detail that will transport readers into the grittiness of Victorian England, and teeming with the very best and worst of humanity. Elizabeth Macneal has crafted a powerful and immersive story that is by turns unsettling and enchanting." 
— Molly Greeley, author of THE CLERGYMAN'S WIFE and THE HEIRESS
"A tremendous read. Richly imagined, vividly rendered, each scene is like an old painting in which light gleams off the detail . . . The story is full-bodied and addictive from the outset, told with pace and verve but never compromising style . . . CIRCUS OF WONDERS displays in abundance everything readers loved about THE DOLL FACTORY . . . an ambitious, enlightening novel."
— Emma Stonex, author of THE LAMPLIGHTERS
"Macneal develops an intimate tale of passion, longing, and self-preservation."
— Kirkus Reviews
"Macneal successfully balances thrilling action sequences with poignant passages…The author brings her fully developed characters to life, highlighting the exploitation of people with visible differences during Victorian times. This makes for a worthy spectacle of its own."
— Publishers Weekly
"Soaring . . . A great pick for book clubs and all those seeking a wondrous story awash in atmospheric details and fully lived characters."
— Booklist (starred review)
"Circus of Wonders is a soaring, tumbling, whip-cracking book. Elizabeth Macneal has brought an extraordinary group of characters together in these pages; the result is a glittering world, a story as moving as it is deeply entertaining."
— Daniel Mason, New York Times bestselling author of THE PIANO TUNER
"I loved THE DOLL FACTORY and I loved CIRCUS OF WONDERS just as much ... An intriguing and beautifully written love story as well as an exploration of the journey from rejection to adoration ... Elizabeth Macneal explores the nature of exploitation, pride and vanity through her vibrant and believable characters."
— Jenny Quintana, author of THE MISSING GIRL
"A glittering, begrimed tale of love and self-determination flush with richly detailed prose. Sumptuous, macabre, enthralling; a perfect slice of Victoriana."
— Jane Healey, author of THE ANIMALS AT LOCKWOOD MANOR
"Elizabeth Macneal's novel is spectacular - a book of wonders!"
— Alix Nathan, author of THE WARLOW EXPERIMENT
"A beautifully told and immersive look at a complex dance between exploitation and empowerment, and the question of what it really means to have control over your own life. I adored its characters, I was utterly gripped throughout, and I loved having my eyes opened to the troubling yet fascinating world of Victorian circuses."
— Naomi Ishiguro, author of ESCAPE ROUTES
"The dark and evocative story drew me in immediately. What a rich world Macneal has created--both harrowing and deeply human. The ending is defiant in the best ways and wonderfully satisfying."
— Megan Campisi, critically acclaimed author of SIN EATER
"Utterly captivating. CIRCUS OF WONDERS is rich with historical detail that will transport readers into the grittiness of Victorian England, and teeming with the very best and worst of humanity. Elizabeth Macneal has crafted a powerful and immersive story that is by turns unsettling and enchanting." 
— Molly Greeley, author of THE CLERGYMAN'S WIFE and THE HEIRESS
"A tremendous read. Richly imagined, vividly rendered, each scene is like an old painting in which light gleams off the detail . . . The story is full-bodied and addictive from the outset, told with pace and verve but never compromising style . . . CIRCUS OF WONDERS displays in abundance everything readers loved about THE DOLL FACTORY . . . an ambitious, enlightening novel."
— Emma Stonex, author of THE LAMPLIGHTERS
"Macneal develops an intimate tale of passion, longing, and self-preservation."
— Kirkus Reviews
"Macneal successfully balances thrilling action sequences with poignant passages…The author brings her fully developed characters to life, highlighting the exploitation of people with visible differences during Victorian times. This makes for a worthy spectacle of its own."
— Publishers Weekly
"Soaring . . . A great pick for book clubs and all those seeking a wondrous story awash in atmospheric details and fully lived characters."
— Booklist (starred review)