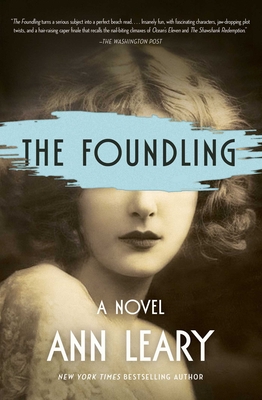 The Foundling: A Novel
Publication Date:
April 4th, 2023
Publisher:
S&S/ Marysue Rucci Books
Usually Ships to Store in 4 to 7 Days
Two friends raised in an orphanage together find themselves on either side of an asylum's institution. Mary, an employee, and Lillian, a patient, secretly navigate a crushing system of abuse of people and power. Do not miss this book!
June 2022 Indie Next List
Description
From the New York Times bestselling author of The Good House, the "harrowing, gripping, and beautiful" (Laura Dave, New York Times bestselling author) story of two friends, raised in the same orphanage, whose loyalty is put to the ultimate test when they meet years later at an institution—based on a shocking and little-known piece of American history.
It's 1927 and eighteen-year-old Mary Engle is hired to work as a secretary at a remote but scenic institution for mentally disabled women called the Nettleton State Village for Feebleminded Women of Childbearing Age. She's immediately in awe of her employer—brilliant, genteel Dr. Agnes Vogel.
Dr. Vogel had been the only woman in her class in medical school. As a young psychiatrist she was an outspoken crusader for women's suffrage. Now, at age forty, Dr. Vogel runs one of the largest and most self-sufficient public asylums for women in the country. Mary deeply admires how dedicated the doctor is to the poor and vulnerable women under her care.
Soon after she's hired, Mary learns that a girl from her childhood orphanage is one of the inmates. Mary remembers Lillian as a beautiful free spirit with a sometimes-tempestuous side. Could she be mentally disabled? When Lillian begs Mary to help her escape, alleging the asylum is not what it seems, Mary is faced with a terrible choice. Should she trust her troubled friend with whom she shares a dark childhood secret? Mary's decision triggers a hair-raising sequence of events with life-altering consequences for all.
Inspired by a true story about the author's grandmother, The Foundling is compelling, unsettling, and "a stunning reminder that not much time has passed since everyone claimed to know what was best for a woman—everyone except the woman herself" (Jodi Picoult, New York Times bestselling author).
Praise for The Foundling: A Novel
"Leary's latest is a stunning tale of corruption, compassion, and hope, and includes one of the best endings I've read in ages. She's reached back in history and uncovered a shockingly true story, one that resonates strongly today. Full of jaw-dropping twists and intriguing characters – you won't be able to put it down."  
— Fiona Davis, New York Times bestselling author of The Magnolia Palace   
"Ann Leary's THE FOUNDLING is a compelling, shocking record of a too-hidden piece of history - when eugenics was commonly applauded as progressive social science…. A stunning reminder that not much time has passed since everyone claimed to know what was best for a woman - everyone except the woman herself."
-Jodi Picoult, New York Times bestselling author of Wish You Were Here 
"Gripping and consistently surprising, Ann Leary's The Foundling is a first-rate historical novel, so well-researched and so well-told that the reader is transported back in time to a Pennsylvania asylum for wayward women that should never have existed. Excellent."
—Mark Sullivan, author of Beneath a Scarlet Sky
"Ann Leary is a remarkable storyteller, and The Foundling is harrowing, gripping, and beautiful. You'll be thinking about these characters long after you turn the last page."   
— Laura Dave, New York Times Bestselling author of The Last Thing He Told Me   
"A fascinating, unsettling, page-turning story inspired by the little-known and horrifying practice of eugenics in 1920's America."
-Lisa Genova, New York Times Bestselling author of Still Alice and Remember
"The Foundling is a gripping account of the ways big, structural decisions can change the intimate lives of ordinary people. Deeply empathetic to its characters with a sense of awe for the ironies of history, Ann Leary explores the complicated ties of community for those who have none, in a world determined to punish the most vulnerable. Through it all, her characters never lose their sense of humanity or sight of what it means to care for one another." 
—Kaitlyn Greenidge, author of Libertie
"Leary's gripping latest (after The Children) chronicles a naïve young woman's role in a eugenics program at a Pennsylvania asylum in 1927 ... Leary makes an engrossing drama ... [and] ends with an impressive twist. Readers will rip through this tale of historical injustice."
—Publishers Weekly (starred review)
"Leary's wit compliments her serious approach to historical and psychological issues in this thoroughly satisfying novel."
—Kirkus Reviews (starred review)
"Leary's (The Children, 2016) richly rendered, tender tale of friendship and loyalty, based on her own family history, brings into sharp focus the horrors of such punitive institutions, which proliferated in early-twentieth-century America."
—Booklist
"The Foundling is Leary's first historical novel, and she has all the right instincts .... she asks you to root for a protagonist who comes equipped with the orthodoxies of her own day ... Leary is such a virtuoso that she doesn't indulge herself at the expense of Mary's characterization ... Leary is too clever and too honest not to know exactly what she's doing; "The Foundling" arrests us precisely because its antagonist comes cloaked in the good intentions of progressive social reform ... Book clubs, uncork your bottles." 
—Beatriz Williams, The New York Times
"The word "timely" is often used to describe novels that appear at a resonant historical moment. But when it comes to the regulation of women's bodies and the criminalization of sex and reproductive practices, it's hard to pick a time when a novel like Ann Leary's "The Foundling" wouldn't speak to where we are. ... 
Leary does a brilliant job of showing how the need for emotional attachment — in this case triggered by Mary's upbringing — can cloud a person's judgment ...
Leary's novel is ultimately a hopeful one, in which empathy and critical thinking reveal the structural vulnerabilities of such pyramids — built as they are on fabrications, compensations and contradictions that eventually undermine their foundations. Leary is optimistic that reason will prevail."
—Lorraine Berry, Los Angeles Times
"An irresistible teenage narrator and the jaw-dropping caper she pulls off make this novel a kick."
-People Magazine
"The Foundling turns a serious subject into a perfect beach read. [The novel is serious] but it's also insanely fun, with fascinating characters, jaw-dropping plot twists and a hair-raising caper finale that recalls the nail-biting climaxes of 'Ocean's Eleven' and 'The Shawshank Redemption.'"
-Marion Winik, The Washington Post
The Foundling by Ann Leary takes place in 1927, as 18-year-old Mary starts work at the Nettleton State Village for Feebleminded Women of Childbearing Age. When she recognizes one of the patients, a childhood friend raised in the same orphanage she was, Mary begins to wonder what's actually going on at the facility, and whether women are being held against their will. This eye-opening novel, based in part on Leary's family history, looks at the outrageous ways our society has sought to control women.
—Real Simple