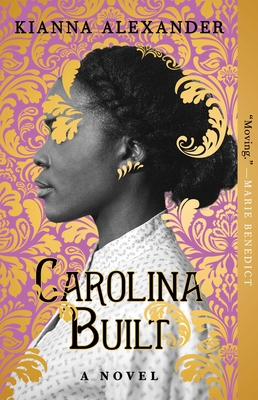 Carolina Built: A Novel
Publication Date:
September 6th, 2022
Usually Ships to Store in 4 to 7 Days
Description
This "exuberant celebration of Black women's joy as well as their achievements" (Kate Quinn, New York Times bestselling author) novelizes the life of real estate magnate Josephine N. Leary in a previously untold story of passion, perseverance, and building a legacy after emancipation in North Carolina.
Josephine N. Leary is determined to build a life of her own and a future for her family. When she moves to Edenton, North Carolina, from the plantation where she was born, she is free, newly married, and ready to follow her dreams.
As the demands of life pull Josephine's attention away, it becomes increasingly difficult for her to pursue her real estate aspirations. She finds herself immersed in deepening her marriage, mothering her daughters, and being a dutiful daughter and granddaughter. Still, she manages to teach herself to be a businesswoman, to manage her finances, and to make smart investments in the local real estate market. But with each passing year, it grows more and more difficult to focus on building her legacy from the ground up.
"Filled with passion and perseverance, Josephine Leary is frankly a woman that everyone should know" (Sadeqa Johnson, author of Yellow Wife) and her story speaks to the part of us that dares to dream bigger, tear down whatever stands in our way, and build something better for the loved ones we leave behind.
Praise for Carolina Built: A Novel
"[Josephine Leary's] inspiring story transcends one life in the years after emancipation to encompass all women who take the chance to secure their own happiness."
—Booklist
"Based on the life of the awe-inspiring Josephine N. Leary, Kianna Alexander's Carolina Built tells the previously untold story of the real estate luminary's climb to freedom. Readers are invited to follow Leary after emancipation in North Carolina as she chases her dreams and equips herself with the tools she needs to be a successful businesswoman in real estate. Building a legacy becomes challenging amidst maintaining a marriage and caring for her daughters, but she pushes forward against all odds — as Black women remarkably do."
—Refinery29
"Kianna Alexander breathes life into forgotten historical matriarch Josephine Leary, a budding entrepreneur born into slavery and raising herself to power after the Civil War as a community investor and savvy businesswoman. Josephine's moving struggle to build family and fortune will strike a chord in a story that is both timely and timeless—Carolina Built is an exuberant celebration of Black women's joy as well as their achievements!"
—Kate Quinn, New York Times bestselling author of The Rose Code
"In Kianna Alexander's moving Carolina Built, readers are afforded a look at the life of newly emancipated Josephine Leary and her courageous efforts to build a real estate business in post-Civil War North Carolina, all the while balancing the ever-increasing demands of her traditional responsibilities."
— Marie Benedict, New York Times bestselling author of The Mystery of Mrs. Christie and Her Hidden Genius
"A beautiful, heartfelt story of an extraordinary woman too long forgotten to history. Kianna Alexander has recreated Josephine Leary's life with wonderful historical detail and obvious care that shines through on the page. Josephine's strength, determination, and ambition will an inspiration to any woman."
—Julia Kelly, international bestselling author of The Last Garden in England
"Carolina Built is an integral addition to a part of our history that omits the accomplishments of Black women. Filled with passion and perseverance, Josephine Leary is frankly a woman that everyone should know."
—Sadeqa Johnson, International bestselling author of Yellow Wife
"Carolina Built brings to light another hidden figure whose story is long overdue. I loved meeting Josephine Leary between these pages, the woman who moved from bondage to freedom to financial independence. Filled with dreams and passion, Josephine desired nothing more than to leave a legacy for the generations to follow—and she accomplished that. What a feat for a woman who started with nothing. Her passion and perseverance was so impressive and from the very first page, I never wanted to put this book down."
—Victoria Christopher Murray, New York Times bestselling author of The Personal Librarian
"I'm so thankful Kianna Alexander has magnificently resurrected the life and work of Josephine Leary, an entrepreneurial warrior whose guiding light is needed now more than ever. Leary's brilliant legacy in the business world, as richly depicted by Alexander in Carolina Built, made me cry, clap, and cheer, leaving me fully empowered to follow the pioneering path Leary forged for all to follow."
—Piper Huguley, author of Sweet Tea
"Kianna Alexander builds an intimate portrait of an ambitious woman who found a way to become more than the name, Mrs. Leary. This is not simply a wife-of-tale or the woman-behind-the-man story. Alexander deftly crafts a character-driven narrative that allows Josephine to shine, making her both remarkable and relatable.  I wish to sit and have coffee with 'Jo' on her porch and listen to her wisdom of how she succeeded, how she became more—stretching her arms wide enough to hold on to her dreams, her marriage, and manage motherhood."
— Vanessa Riley, author of Island Queen 
"A powerful love letter to the grit and determination of real estate maven Josephine Napoleon Leary, a formerly enslaved African-American woman undeterred by the poverty, sexism, and racism of late-1800s North Carolina, that both satisfies and inspires."
—Kaia Alderson, author of Sisters in Arms
"Carolina Built by Kianna Alexander tells the inspiring story of the real-life historical figure Josephine Napoleon Leary, the North Carolina former slave but free wife and mother who eventually becomes a real estate tycoon. A character-driven tale, Carolina Built delves expertly into the daily life of a woman whose small battles provide as much texture and passion as her and her husband's entrepreneurial ambition. It's a thrill to read a novel about a Black woman who is as successful in business as she is a wife and mother, especially in a story told in the South during the post-Civil War decades."
—Denny Bryce, author of Wild Women and The Blues
"A triumph! Carolina Built shines by perfectly capturing the perseverance, grit and heart of a formidable woman who builds an empire against unbelievable odds."
—Joanna Shupe, USA Today bestselling author
"Incredibly well researched and filled with historical detail, Carolina Built is inspiring and relatable, and oftentimes humorous…. The author's passion for telling Josephine's story is evident in the pages, and I enjoyed learning about such a determined woman."
— Historical Novel Society
"A pleasant panorama of middle-class small-town life in the late 19th century."
— Kirkus Reviews
"Alexander's exhaustive research and the ample historical detail do justice to the material…the author does a nice job illuminating the life of an extraordinary historical figure."
— Publishers Weekly
"Kianna Alexander brought the real Josephine Leary to life in her page-turning book of historical fiction that leapt off the page."
—The Southern Bookseller Review
"A necessary addition to the literature on post–Civil War life for freed Black men and women, and a critical reminder of the power of the freedom to dream."
—Bookreporter
"[Josephine Leary's] inspiring story transcends one life in the years after emancipation to encompass all women who take the chance to secure their own happiness."
—Booklist
"Based on the life of the awe-inspiring Josephine N. Leary, Kianna Alexander's Carolina Built tells the previously untold story of the real estate luminary's climb to freedom. Readers are invited to follow Leary after emancipation in North Carolina as she chases her dreams and equips herself with the tools she needs to be a successful businesswoman in real estate. Building a legacy becomes challenging amidst maintaining a marriage and caring for her daughters, but she pushes forward against all odds — as Black women remarkably do."
—Refinery29
"Kianna Alexander breathes life into forgotten historical matriarch Josephine Leary, a budding entrepreneur born into slavery and raising herself to power after the Civil War as a community investor and savvy businesswoman. Josephine's moving struggle to build family and fortune will strike a chord in a story that is both timely and timeless—Carolina Built is an exuberant celebration of Black women's joy as well as their achievements!"
—Kate Quinn, New York Times bestselling author of The Rose Code
"In Kianna Alexander's moving Carolina Built, readers are afforded a look at the life of newly emancipated Josephine Leary and her courageous efforts to build a real estate business in post-Civil War North Carolina, all the while balancing the ever-increasing demands of her traditional responsibilities."
— Marie Benedict, New York Times bestselling author of The Mystery of Mrs. Christie and Her Hidden Genius
"A beautiful, heartfelt story of an extraordinary woman too long forgotten to history. Kianna Alexander has recreated Josephine Leary's life with wonderful historical detail and obvious care that shines through on the page. Josephine's strength, determination, and ambition will an inspiration to any woman."
—Julia Kelly, international bestselling author of The Last Garden in England
"Carolina Built is an integral addition to a part of our history that omits the accomplishments of Black women. Filled with passion and perseverance, Josephine Leary is frankly a woman that everyone should know."
—Sadeqa Johnson, International bestselling author of Yellow Wife
"Carolina Built brings to light another hidden figure whose story is long overdue. I loved meeting Josephine Leary between these pages, the woman who moved from bondage to freedom to financial independence. Filled with dreams and passion, Josephine desired nothing more than to leave a legacy for the generations to follow—and she accomplished that. What a feat for a woman who started with nothing. Her passion and perseverance was so impressive and from the very first page, I never wanted to put this book down."
—Victoria Christopher Murray, New York Times bestselling author of The Personal Librarian
"I'm so thankful Kianna Alexander has magnificently resurrected the life and work of Josephine Leary, an entrepreneurial warrior whose guiding light is needed now more than ever. Leary's brilliant legacy in the business world, as richly depicted by Alexander in Carolina Built, made me cry, clap, and cheer, leaving me fully empowered to follow the pioneering path Leary forged for all to follow."
—Piper Huguley, author of Sweet Tea
"Kianna Alexander builds an intimate portrait of an ambitious woman who found a way to become more than the name, Mrs. Leary. This is not simply a wife-of-tale or the woman-behind-the-man story. Alexander deftly crafts a character-driven narrative that allows Josephine to shine, making her both remarkable and relatable.  I wish to sit and have coffee with 'Jo' on her porch and listen to her wisdom of how she succeeded, how she became more—stretching her arms wide enough to hold on to her dreams, her marriage, and manage motherhood."
— Vanessa Riley, author of Island Queen 
"A powerful love letter to the grit and determination of real estate maven Josephine Napoleon Leary, a formerly enslaved African-American woman undeterred by the poverty, sexism, and racism of late-1800s North Carolina, that both satisfies and inspires."
—Kaia Alderson, author of Sisters in Arms
"Carolina Built by Kianna Alexander tells the inspiring story of the real-life historical figure Josephine Napoleon Leary, the North Carolina former slave but free wife and mother who eventually becomes a real estate tycoon. A character-driven tale, Carolina Built delves expertly into the daily life of a woman whose small battles provide as much texture and passion as her and her husband's entrepreneurial ambition. It's a thrill to read a novel about a Black woman who is as successful in business as she is a wife and mother, especially in a story told in the South during the post-Civil War decades."
—Denny Bryce, author of Wild Women and The Blues
"A triumph! Carolina Built shines by perfectly capturing the perseverance, grit and heart of a formidable woman who builds an empire against unbelievable odds."
—Joanna Shupe, USA Today bestselling author
"Incredibly well researched and filled with historical detail, Carolina Built is inspiring and relatable, and oftentimes humorous…. The author's passion for telling Josephine's story is evident in the pages, and I enjoyed learning about such a determined woman."
— Historical Novel Society
"A pleasant panorama of middle-class small-town life in the late 19th century."
— Kirkus Reviews
"Alexander's exhaustive research and the ample historical detail do justice to the material…the author does a nice job illuminating the life of an extraordinary historical figure."
— Publishers Weekly
"Kianna Alexander brought the real Josephine Leary to life in her page-turning book of historical fiction that leapt off the page."
—The Southern Bookseller Review
"A necessary addition to the literature on post–Civil War life for freed Black men and women, and a critical reminder of the power of the freedom to dream."
—Bookreporter