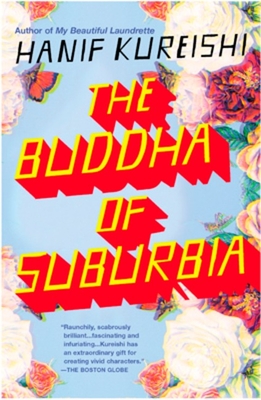 The Buddha of Suburbia
Publication Date:
May 1st, 1991
Description
Winner of the Whitbread Prize for Best First Novel
"There was one copy going round our school like contraband. I read it in one sitting ... I'd never read a book about anyone remotely like me before."-- Zadie Smith
"My name is Karim Amir, and I am an Englishman born and bred, almost..."
The hero of Hanif Kureishi's debut novel is dreamy teenager Karim, desperate to escape suburban South London and experience the forbidden fruits which the 1970s seem to offer. When the unlikely opportunity of a life in the theatre announces itself, Karim starts to win the sort of attention he has been craving - albeit with some rude and raucous results.
With the publication of Buddha of Suburbia, Hanif Kureishi landed into the literary landscape as a distinct new voice and a fearless taboo-breaking writer. The novel inspired a ground-breaking BBC series featuring a soundtrack by David Bowie.
About the Author
Hanif Kureishi was born and brought up in Kent. He read philosophy at King's College, London. In 1981 he won the George Devine Award for his plays Outskirts and Borderline, and in 1982 he was appointed Writer-in-Residence at the Royal Court Theatre. In 1984 he wrote My Beautiful Laundrette, which received an Oscar nomination for Best Screenplay. His second screenplay Sammy and Rosie Get Laid (1987) was followed by London Kills Me (1991) which he also directed. The Buddha of Suburbia won the Whitbread Prize for Best First Novel in 1990 and was made into a four-part drama series by the BBC in 1993. His version of Brecht's Mother Courage has been produced by the Royal Shakespeare Company and the Royal National Theatre. His second novel, The Black Album, was published in 1995. 
His first collection of short stories, Love in a Blue Time, was published in 1997. His story My Son the Fanatic, from that collection, was adapted for film and released in 1998. Intimacy, his third novel, was published in 1998, and a film of the same title, based on the novel and other stories by the author, was released in 2001 and won the Golden Bear award at the Berlin Film Festival. His play Sleep With Me premièred at the Royal National Theatre in 1999. His second collection of stories, Midnight All Day, was published in 2000. Gabriel's Gift, his fourth novel, was published in 2001. The Body and Seven Stories and Dreaming and Scheming, a collection of essays, were published in 2002.
His screenplay The Mother was directed by Roger Michell and released in 2003. In 2004 he published his play When The Night Begins and a memoir, My Ear At His Heart. A second collection of essays, The Word and the Bomb, followed in 2005. His screenplay Venus was directed by Roger Michell in 2006. His novel Something to Tell You was published in 2008.
In July 2009 his adaptation of his novel, The Black Album, opened at the National Theatre, prior to a nation-wide tour. In 2010 his Collected Stories were published.He has been awarded the Chevalier de l'Ordre des Arts et des Lettres.
Praise for The Buddha of Suburbia
"...brilliant...fascinating and infuriating...Kureishi has an extraordinary gift for creating vivid characters." -- The Boston Globe 
'A wonderful novel. I doubt I will read a funnier one, or one with more heart, this year, possibly this decade.' --Angela Carter, Guardian
"One of the best comic novels of growing up, and one of the sharpest satires on race relations in this country that I've ever read."-- Independent on Sunday
'Brilliantly funny. A fresh, anarchic and deliciously unrestrained novel.' Sunday Times (London)
'A distinctive and talented voice, blithe, savvy, alive and kicking.' Hermione Lee, Independent (London)
"delectable. . . . Resembling a modern-day Tom Jones , this is an astonishing book, full of intelligence and elan.'' -- Publishers Weekly
"This remarkably fine first novel from the author of the screenplays My Beautiful Launderette and Sammy and Rosie Get Laid is a freewheeling tour through the London of the 1970's--a London as vice- and class-ridden as that of a Hogarth engraving."-- Kirkus Reviews