Discounted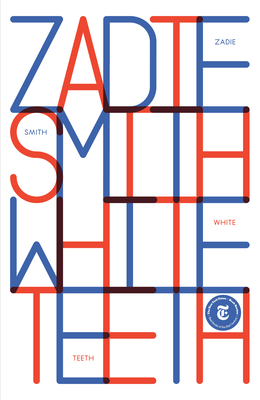 White Teeth: A Novel (Vintage International)
Previous price:

$18.00
Current price:

$17.00
Publication Date:
June 12th, 2001
Usually Ships to Store in 4 to 7 Days
Description
NATIONAL BESTSELLER • The blockbuster debut novel from "a preternaturally gifted" writer (The New York Times ) and author of Swing Time—set against London's racial and cultural tapestry, reveling in the ecstatic hodgepodge of modern life, flirting with disaster, and embracing the comedy of daily existence.
Zadie Smith's dazzling debut caught critics grasping for comparisons and deciding on everyone from Charles Dickens to Salman Rushdie to John Irving and Martin Amis. But the truth is that Zadie Smith's voice is remarkably, fluently, and altogether wonderfully her own.
At the center of this invigorating novel are two unlikely friends, Archie Jones and Samad Iqbal. Hapless veterans of World War II, Archie and Samad and their families become agents of England's irrevocable transformation. A second marriage to Clara Bowden, a beautiful, albeit tooth-challenged, Jamaican half his age, quite literally gives Archie a second lease on life, and produces Irie, a knowing child whose personality doesn't quite match her name (Jamaican for "no problem"). Samad's late-in-life arranged marriage (he had to wait for his bride to be born), produces twin sons whose separate paths confound Iqbal's every effort to direct them, and a renewed, if selective, submission to his Islamic faith. 
"[White Teeth] is, like the London it portrays, a restless hybrid of voices, tones, and textures…with a raucous energy and confidence." —The New York Times Book Review
Praise for White Teeth: A Novel (Vintage International)
A PARADE BEST BOOK OF ALL TIME
"A preternaturally gifted new writer [with] a voice that's street-smart and learned, sassy and philosophical all at the same time." —Michiko Kakutani, The New York Times
"Brilliant…. Smith is a master at detail…a postmodern Charles Dickens…[Smith's] rich storytelling and wicked wit are suited to the sights and smells of the world that England has inherited." —The Washington Post

"[A] vibrant, rollicking first novel about race and idenity…[Smith's] prickly wit is affectionate and poignant." —People
"[A] dazzling intergenerational first novel…wonderfully inventive…playful yet unaffected, mongrel yet cohesive, profound yet funny, vernacular yet lyrical. " —Los Angeles Times
"[A] marvel of a debut novel. . .Reminscent of both Salman Rushdie and John Irving, White Teeth is a comic, canny, sprawling tale, adeptly held together by Smith's literary sleight of hand." —Entertainment Weekly

"A magnificent and audacious novel, jampacked with memorable characters and challenging ideas." —The Atlanta Journal & Constitution

"Ambitious, earnest and irreverent. . . Smith has a real talent for comedy and a fond eye for human foibles." —The Wall Street Journal
"Wonderful…. Zadie Smith…possesses a more than ordinary share of talent." —USA Today
"Smith has an astonishing intellect. She writes sharp dialogue for every age and race—and she's funny as hell." —Newsweek

"[White Teeth] is, like the London it portrays, a restless hybrid of voices, tones, and textures…with a raucous energy and confidence." —The New York Times Book Review

"Fresh…spirited…this extravagant novel bursts with optimism about people, about language, and perhaps, above all, about novels and the joy, indeed the impertinence, of writing one." —The Philadelphia Inquirer

"Blissfully confident, wide-ranging and funny from the get-go, White Teeth…promises–and delivers–a wildly inventive journey into a fresh imagination." —Rocky Mountain News

"Brilliant…. Smith is a master at detail…. Like a postmodern Dickens, she has a flair for features, dress, dialogue, accents and human frailty." —The Miami Herald

"It's a treat to watch an immensely gifted young writer performing, for the very first time, such an admirably audacious and ambitious juggling act." —Elle

"Absolutely delicious…. Smith's voice is a perfect balance of tragedy and comedy." —The Tampa Tribune and Times
"Gently observant and generous in its judgments…. Filled with vibrant life." —The San Diego Union—Tribune

"Brilliant…. Bubbles and pops in its imaginative intensity." —The Baltimore Sun