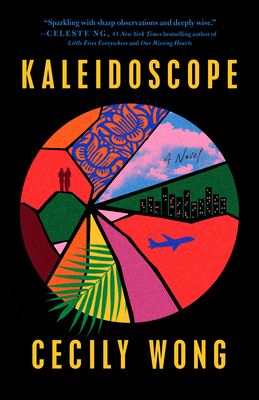 Kaleidoscope: A Novel
Publication Date:
July 11th, 2023
Rozzie Bound Co-op
1 on hand, as of Dec 7 6:12pm
On Our Shelves Now
Description
A dazzling novel about the tumultuous relationship between two sisters, a shocking loss that changes everything, and the life-altering adventure that follows.

Morgan and Riley Brighton are joint heirs to Kaleidoscope: a glittering, 'global bohemian' shopping empire—created in sleepy Oregon and catapulted into haute New York—sourcing luxury goods from around the world. Morgan, statuesque beauty and Kaleidoscope's talented designer, is adored by all, especially by the Brighton parents. Yet no one loves her more than Riley, whose shy and adventurous spirit is exalted by her sister.
When a catastrophic event dismantles the Brightons' world, Riley must stand in the spotlight for the first time in her life, with questions about her family that challenge her memory, identity, and loyalty. Restless and heartbroken, she sets off across the globe with the person she least expects, to seek truths about those she thought she knew best—herself included.
Kaleidoscope is at once an examination of the precious bond between sisters as well as a vibrant story of exploration and surprising love. Moving and funny, warm and wise, Cecily Wong delivers a transporting, addictive page-turner that will tempt your appetite for food and travel and change the way you imagine your place in the world.
Praise for Kaleidoscope: A Novel
"Sparkling with sharp observations and deeply wise in its insights, Kaleidoscope is a moving portrayal of the tangled knot of sisterhood and the dizzying spiral of grief. Cecily Wong's dazzling second novel deftly explores the complex push-pull of family and ambition, and the ways we learn to define ourselves in—and out of—our loved ones' orbits." 
—Celeste Ng, #1 New York Times bestselling author of Little Fires Everywhere
"The two sisters at the center of this intimate novel are biracial Chinese Americans, heirs to their family's Oregon grocery store turned New York luxury empire, and as different as they are close. When disaster strikes, the younger sister, Riley, must re-evaluate her family and world."
—New York Times Book Review
"Wong's insightful and compelling novel follows two sisters in a moving and complex look at ambition and success."
—BuzzFeed

"Kaleidoscope is a moving story about grief and one prominent family adjusting around a sudden loss. Cecily Wong captures the gradations of loss but also the power of love in the novel, which may be exactly what you need this summer." 
—Today.com, "26 Best Books to Sink Into This Summer"
"Evocatively-written and structured like fragments, Kaleidoscope shows what it means to look at family from all angles."
—Zibby Owens, Good Morning America
"Ambitious and unabashedly romantic, Kaleidoscope is as heartbreaking and hilarious as life itself…. True to the book's title, Wong tells her young protagonists' story in fragments that shift through time and place, cohering into a beautiful, sparkling whole. Although it's fast-paced enough to be read in a single sitting, Kaleidoscope is a novel you'll want to linger with, full of fascinating characters and moments of arresting beauty."
—Apple Books, "Best of July"
"Feeling wanderlust? Me too. Well, if you don't have any plans for major travel just yet, prepare to be transported from the comfort of your couch. From Oregon and New York City to Mumbai and beyond, this page-turner will have you riding a wave of emotions. Share in the characters' love, loss and search for purpose in a callous world. I devoured Wong's first novel Diamond Head, too, so if you're a fast reader, I say get both!"
—Yahoo! Life
"The author balances her characters' palpable emotions with whip-smart commentary on cultural commodification.... It's a smash."
—Publishers Weekly (starred)
"True to its title, Wong's overarching account of one family's business is told with beautiful imagery but reveals individual pieces that show how things are not what they appear to be. This story of people, culture, and lifestyles will be appreciated by readers who enjoy novels involving families and their secrets, like Celeste Ng's Everything I Never Told You and Jean Kwok's Searching for Sylvie Lee."
—Library Journal (starred)
"Kaleidoscope unfolds into a novel much bigger than the sum of its parts: a story of family, grief and identity and what it means to make a life out of an 'opportunity, an aberration, scooped up through... unspeakable loss.'" 
—Shelf Awareness
"Told in beautiful detail with quippy dialogue. . . . A deftly written family saga that explores—and challenges—the contemporary American dream and the meaning of home and family."
—Kirkus
"Telling a beautiful and heartbreaking story through fragments of the sisters' lives, Wong shows how they've been shaped by the many experiences they've lived through, and how different perspectives can change the way we understand the truth."
—Booklist
"Cecily Wong's Kaleidoscope is an evocative novel about sisterhood, ambition, self-knowledge, and how we carry forward after loss. I imagine many readers will find themselves in these pages."
—Mary Beth Keane, New York Times bestselling author of Ask Again, Yes
"Rich and gorgeously written, Kaleidoscope is a novel of America and of globalization, of sisterly intimacy and of the need for independence. It is pure pleasure to encounter the world through Cecily Wong's sharp eye and sharper tongue. Here is that rare thing: a story of grief that also manages to be laugh-out-loud funny. I never wanted to put it down." 
—Julia Pierpont, bestselling author of Among the Ten Thousand Things

"Kaleidoscope is an ode to the fierce and complicated bond between sisters, to unexpected love, to the pleasures of travel and food and unclaimed afternoons. It traces the way loss can change the shape of a life, honoring the experience of profound grief while, miraculously, reminding us of the beauty to be found in surviving. Intricate, gorgeously written, deeply moving -- I loved this book."
—Julie Buntin, author of Marlena
"Cecily Wong's voice is assured and so very alive in Kaleidoscope, a transportive and compulsively readable novel exploring loss and longing, sisterhood and survival, and the complex relationships that both mystify and define us. Fierce, sensitive, and beautifully crafted, I didn't want this book to end."
—Nicole Chung, author of All You Can Ever Know
"Wong has seamlessly captured the entire Brighton family—how they grieve and how they love one another, what they want and what they need from each other. The result is a startlingly beautiful novel. Kaleidoscope will break your heart and then win it over, time and time again."
—Sarah Blake, author of Naamah and Clean Air
"Cecily Wong's Kaleidoscope is a dazzling meditation on excess and loss, sensuality and separation. A tour de force contemplation of the end of youth. Not only is it emotionally gripping, structurally brilliant, and conceptually mesmerizing, it's pure good fun too—lusciously rich in description and replete with all varieties of readerly pleasure." 
—Yelena Akhtiorskaya, author of Panic in a Suitcase

"Kaleidoscope is a book about love, both its many deceptions and its brutal honesty. This is a wise, tender, beautiful novel by an assured writer, written with empathy for its characters' messy lives. The Brighton family seems to have it all—money and fame and a perfect family—but all is not as it seems. It is as the family unravels that Kaleidoscope reveals its true design."
—Matthew Salesses, author of Craft in the Real World
"Set in cities as vibrant as its characters, Kaleidoscope tracks a physical and emotional journey through grief, healing, and deeper understanding. In it, twin stories of sibling love and romantic love are woven together to ultimately tell a nuanced story of self-love. I ached for Morgan and Riley, for how strong their bond was despite the secrets they kept. Wong's wisdom of the heart shines."
—Lucy Tan, author of What We Were Promised
"An introspective portrait of sisterhood rarely told and of a family weathering yet another storm.... Kaleidoscope is heartfelt, devastating, and just long enough to satisfy a reader who thirsts for modern, emotional family dramas."
—Mochi Magazine
"This is a story of sisterhood, ambition, and the complex tangled-ness of relationships between sisters, lovers, and parents . . . a book about love, grief, and forgiveness."
—M Magazine