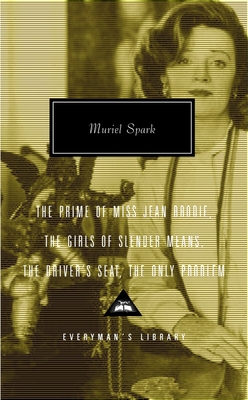 The Prime of Miss Jean Brodie, The Girls of Slender Means, The Driver's Seat, The Only Problem: Introduction by Frank Kermode (Everyman's Library Contemporary Classics Series)
Publication Date:
April 6th, 2004
Publisher:
Everyman's Library
Description
The brevity of Muriel Spark's novels is equaled only by their brilliance. These four novels, each a miniature masterpiece, illustrate her development over four decades. Despite the seriousness of their themes, all four are fantastic comedies of manners, bristling with wit.
Spark's most celebrated novel, The Prime of Miss Jean Brodie, tells the story of a charismatic schoolteacher's catastrophic effect on her pupils. The Girls of Slender Means is a beautifully drawn portrait of young women living in a hostel in London in the giddy postwar days of 1945. The Driver's Seat follows the final haunted hours of a woman descending into madness. And The Only Problem is a witty fable about suffering that brings the Book of Job to bear on contemporary terrorism.
All four novels give evidence of one of the most original and unmistakable voices in contemporary fiction. Characters are vividly etched in a few words; earth-shaking events are lightly touched on. Yet underneath the glittering surface there is an obsessive probing of metaphysical questions: the meaning of good and evil, the need for salvation, the search for significance.
Praise for The Prime of Miss Jean Brodie, The Girls of Slender Means, The Driver's Seat, The Only Problem: Introduction by Frank Kermode (Everyman's Library Contemporary Classics Series)
"Muriel Spark is one of the few writers on either side of the Atlantic with enough resources, daring, and stamina to be altering, as well as feeding, the fiction machine…We are never out of touch in a Spark novel with the happiness of creation; the sudden willful largesse of magic and wit, the cunning tautness of suspense."–John Updike, The New Yorker
"One of our greatest living novelists." –The Times

"Spark's powers of invention are apparently inexhaustible." –Commonwealth
"[Spark is] one of this century's finest creators of comic-metaphysical entertainment." –New York Times
"Some of [Spark's] finest fictions are novellas rather than novels, short enough to be read in a single dizzying sitting." –David Lodge
"[Spark] has written some things that seem likely to go on being read as long as fiction in English is read at all." –New York Times Book Review